Fine Arts puts on first "Holiday in the Park-ing Lot"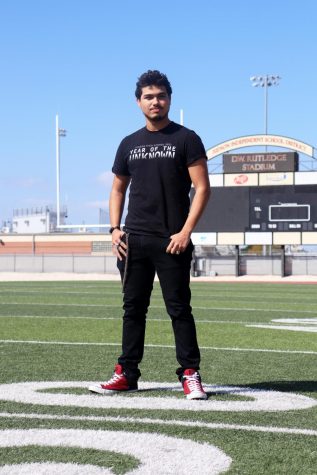 More stories from Juan Rodriguez Maldonado
On Thursday, December 17, 2020, the Judson band/choir performed a Christmas theme concert in the parking lot in front of the PAC. This year was their first time performing outside in the parking lot due to COVID-19. 
They wanted to not only keep themselves but the crowd safe. Everyone was distancing themselves six feet or more and had to wear a mask to be able to attend the concert.
"When I was thinking about it, I didn't think we were able to put the concert together. There just wasn't enough room inside," head band director Laura Braun said. "We all just joined forces and put it together and that is when we came up with the Holiday in the Park-ing Lot."
The choir was the first to begin the performance, led by directors Mrs. Tiffany Cristo and Mr. Grant Lyons. The first song they started off was "Whatcha Gonna Call That Baby", by Phyllis Wolfe White. They also performed two Spanish carols. "A la Nanita nana" by David Eddleman is a Hispanic Christmas carol that is sung in honor of Baby Jesus. "A La Media Noche" also describes the birth of Jesus at midnight. The choir finishes off their performance with the song "Frosty the Snowman" by Kirby Shaw.
"The feeling of sharing a moment with each other makes it worth it," sophomore Esperanza Rivas said.
The jazz band stepped in and played nearly five songs. A few of them were "Sudden Sam" by Nestico, "In the Mood" by Garland, and "Sing Sing Sing" by Louis Prima. During the jazz band's performance, the jazz band and director Emily Gurwitz encouraged people to dance whether you're new or familiar with jazz. 
"It felt like we were just jamming out," senior Aaron Dayao said. "We got to show people the Christmas spirit."
A few people from the crowd decided to begin dancing with their family and enjoy themselves. They also played "Gonna Fly Now" by Conti Aar. Lopez, which is also the theme song used in the 1976 movie known as "Rocky."
"We were surprised we got so many people out here today," senior and drum major Ernest Dominquez said. "It was a really great show for people and we are happy everyone came out today."
The marching band was the last group to end the concert. The first song they played was "Winter Wonderland" by Felix Bernard and "Sleigh Ride" by Elroy Anderson.
"This performance was awesome overall, even though it was a covid year. I still felt the same energy as we did in past years," senior Julian Aguilar said.
—-
If there are issues with this article, report it here.