Senior Alisha Pagan-Velez has mixed emotions after being named valedictorian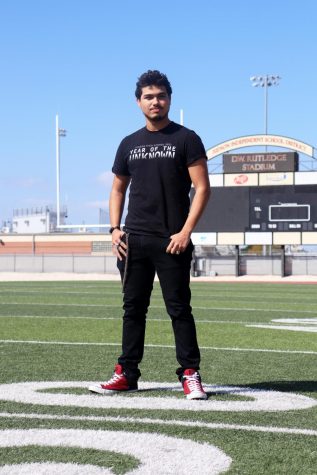 More stories from Juan Rodriguez Maldonado
When first walking into high school, there were students whose prime goal is to achieve greatness. Those who are willing to learn, commit to their academics, and reach the top. 
This year has provided many difficult challenges to students because of COVID-19. But even so, that still didn't stop senior Alisha Pagan-Velez. Because of her hard work and efforts, she was named the valedictorian for the senior class of 2021.
Velez worked very hard since her freshman year, but she wanted to be top of her class since her sophomore year. Now,  she doesn't know what to do now with this honor she has been awarded.
"Honestly, it just feels weird. Occasionally, I'll think about it and be slightly awed that I was able to achieve this, but overall, I don't really know what to do with the information," Velez said.
For Velez, she thought that after being given this distinction, she would at least feel relieved. Except, she became the complete opposite. She was having doubts about how or why she was awarded valedictorian. 
"During my sophomore year, when I first heard I was ranked first in my class, I felt pressured to try and work hard in order to keep first," Velez said. "Now that I'm here, I don't understand how I got it."
Despite her mixed feelings, Velez knows she still has worked tremendously hard especially this year due to online learning. Her schedule this year contained up to five AP classes. She is also a part of a band and is currently a percussionist. Even so, she feels that she wasn't able to make a good balance between school work and life outside of school.
"It caused a lot of what I feel was unnecessary stress. Overall, I'm constantly learning from my actions. So while I do feel like I missed out on some things, I'm not sure if I'd say I fully regret anything," Velez said.
Velez plans to attend one of the Alamo Colleges. She has saved a seat but is unsure of what career she wants to take part of.
"I saved a seat for the Alamo Promise but I don't have a set plan for anything," Velez said.
Nevertheless, she feels very fortunate to have her mom who has made a huge influence in her life.
"She's raised me and my siblings alone and for that, I owe so much to her," Velez said. "She's made me who I am today."
Velez has achieved many things in her high school life. She didn't achieve everything she originally wanted to but is still satisfied with what she has accomplished. 
"I've even achieved things I never sought to achieve (like being valedictorian). I may not have achieved everything I may have wanted to but, still, I don't feel bad about it because it's okay for plans to change," Velez said.
After pushing herself beyond the limits of others, taking advanced classes, constantly studying, finishing assignments, and having a strong mindset has finally paid off throughout her high school career – she is Judson's valedictorian for the 2021 senior class.
—-
If there are issues with this article, report it here.