For freshmen, their first year of high school is not what they expected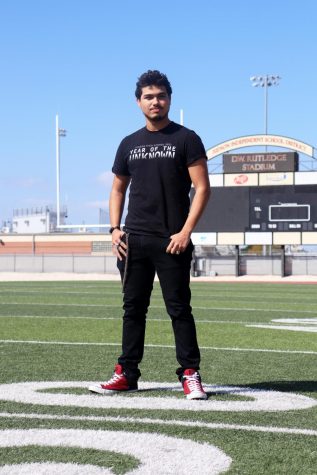 More stories from Juan Rodriguez Maldonado
With the coronavirus having made it difficult for students to fully return to school, many expectations, hopes, or events had to be put on pause. 
A freshman's first year of high school marks the beginning of a new chapter in their life – making the transition from middle school to high school can either be an exciting or nerve-wracking experience. 
"Honestly, I was very nervous and excited. I wanted to start a new chapter, but at the same time, I was worried I wasn't gonna make any friends," freshman Shairalis Rivera Guzman said.
Guzman is currently in the band and plays the flute. She has been attending the practices but still follows safety guidelines.
"I have been attending the practices and they are honestly really fun. It's a lot of hard work but for the most part, it's amazing," Guzman said.
While many freshmen are still doing virtual school, several of them have decided to do face-to-face instruction. It's not a normal school year though – normal events have been canceled and the school is adhering to strict safety precautions.
"I find it easy so far. But when I was doing virtual, it was kind of hard because of internet problems and some of my work wouldn't submit. But now that I came back to school, I could actually focus on everything," freshman Alexandra Lozano said.
Though it can be said that almost everyone walking into their first year of high school can relate to each other to some degree, this year is different because of the safety precautions and rules the school and students have to follow.
"It is definitely necessary [to follow the safety rules] because in a school this big, with this many students, a virus can spread pretty fast," Lozano said.
So far, everyone on campus has been following all the safety guidelines. Sadly, in the surrounding area and the state, cases continue to increase and the idea of another school closure is plausible.
This year is just all around an odd year.
"I thought my first year of high school would have been completely different than how it's going, because of COVID. I thought I would be able to experience pep rallies and go to football games more often, just seeing all of my friends and making new ones. And just have a good and fun freshmen year overall," freshman Liani Cheverez said. "However, it turned out a little bit different than I expected, given the fact that the full physical interaction isn't there and I expected some events like pep rallies, sporting events, and more face-to-face activities. However, I am learning to adapt and make the best out of this setting. I look forward to being able to experience those types of things in the future but for now, we just have to make the most of it."
—-
If there are issues with this article, report it here.