Community garden gets unexpected help from the wrestlers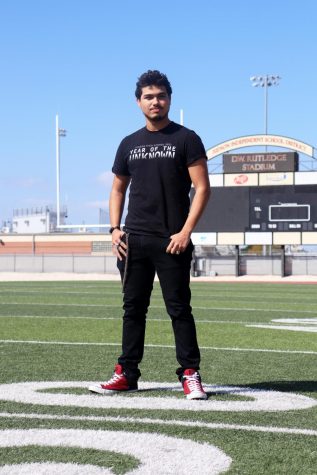 More stories from Juan Rodriguez Maldonado
COVID-19 has made life difficult for a lot of people and caused many negative impacts.
However, it has actually made somewhat of a positive impact on the community; the campus has been allowed to continue many activities, as long as they follow the safety rules and guidelines to keep everyone safe.
The community garden, ran by social studies teacher Mr. Lucas Lovelace, had to be put on pause – like everything else on campus – because of  COVID-19. However, now that the school has reopened and functional, so has the community garden.
The garden is available five days a week during and after school. Lovelace recommends students, teachers, and staff participate in the community garden because it can have a positive impact on yourself and the community.
"At first, COVID negatively impacted the garden when we tried to start last year. But now that we're back and that I'm able to do this every day with the students, I really think that COVID has made the garden blossom, in a sense, especially right now in particular because I have the same students every day. I really think they are making a difference," Lovelace said.
Unexpectedly, the wrestling team has been helping Lovelace every day during third period.
It all started when Lovelace went next door to Coach Paul Guenther's class and asked the wrestlers to help lift things for the garden.
"Last year, [Lovelace and I]  talked about how gardening is becoming a lost art," Guenther said. "I've been doing it since I was a kid and I think it's an important skill to have."
Since many of the wrestlers went out to help in the garden, they seemed to have enjoyed it and continue to do well, helping Lovelace and the garden itself.
"After some time, I really liked [how the garden was turning out.] It's a fun thing to do and not many people have a chance to build friendships like the ones you would build in the garden," senior Damian Zacarias said.
Guenther has really shown a lot of care for the garden and so have the wrestlers. They plan to continue doing so, benefiting the garden and the community itself.
"I think it's a reflection of the program the wrestlers are in. Ever since Coach Guenther has taken over, he has really instilled some great characteristics in our wrestling team and has shown to not just care for yourself but to care about your physical surroundings as well," Lovelace said.
Despite the challenges COVID-19 has caused for the garden, the wrestling team and Lovelace expect the garden to turn out great this year and hope to continue doing it to benefit the community.
—-
If there are issues with this article, report it here.