The unheard voice of the public health crisis: the school nurse
As the virus continues to spread in the community, rising to some of the highest numbers seen since March, the Texas Education Agency has said that Texas schools are safe environments. In contrast, the Texas Department of State Health Services has reported over 30,000 students and staff at public schools have contracted COVID-19 this year.
The contradictory messages can be confusing when it comes to the safety of our community schools. More so, it is not clear whether students and staff are contracting the virus at school or through their lives outside of it.
Typical, through this pandemic, when one thinks of "frontline workers," the school nurse is not a medical professional that is often mentioned.
"It is really hard to advocate for ourselves when there is only one of them per campus," the school nurse for Judson High School Mrs. Yvette Huizar, RN, said. "When you work ER, there are a lot of you. You are respected. In a school, there is only one of them, so it is hard to be heard."
Her medical resume is impressive – a graduate of Baptist School of Nursing, she spent 16 years as an emergency room nurse, worked for Caremark CVS and United Healthcare, and has been a school nurse for almost 13 years. This is her first year on campus, coming from Kitty Hawk Middle School.
"People see the ice packs and the bandaids, but you don't see the diabetics and the seizures, the emergencies, the medications that we have to deal with, the orders that we have to call the doctors about," Huizar said. "There are things that do take a nurse's knowledge that we still need to follow."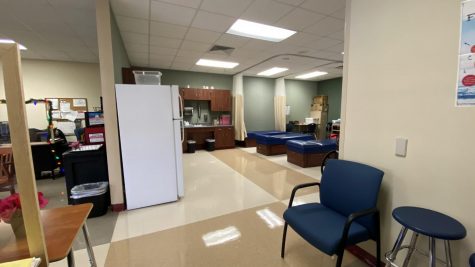 As the pandemic began to ravage the country, her first thought was that she needed to help.
"I thought about going to New York to help," Huizar said. "I realized I had nobody there if I got sick."
She watched some of her peers contract and fight the disease when no one knew what was really going on.
"So many in the health community were getting sick. We didn't know how to protect ourselves. We didn't have the appropriate PPE," Huizar said.
COVID-19 began to take a chokehold on the country during January 2020. Now, the virus has infected over 13 million people with nearly 270,000 deaths. As of November 25, it has infected nearly 76,000 people and killed over 1,300 people in San Antonio.
"I never lived during a pandemic, but I wasn't surprised because of how fast people were being infected," Huizar said. "I had never seen anything like that, so I was really alarmed. I felt really guilty. Coming from ER, that is where I should be."
As a vital member of the COVID-19 response team on campus, her role is to assess and refer. She is responsible for contacting students who fail the COVID-19 screener and determines whether they should be under a 10-day quarantine. If a student feels symptoms on campus, they must follow a district checklist, looking for fever or chills, a cough, shortness of breath, fatigue, headaches, or body aches, among other symptoms.
If an employee has symptoms, because the nurse is actually their colleague, they must go through administration and human resources.
"Hernandez has done a good job by quarantining anyone that has come in contact immediately," Huizar said. "That has been the number one thing that he has done that has prevented any spread on campus."
Now nearly a year into the pandemic, two vaccines are moving forward for an emergency FDA approval.
"I've heard some good news about the vaccine. It looks promising," Huizar said. "Hopefully, by spring break, we can travel."
The pandemic has changed everyone's lives, especially in education.
"It has opened up the door to virtual education in the future," Huizar said. "If your child is sick for an extended period of time, this has now opened the door for virtual education to be done from home."
As the medical professional on campus, she has seen the change that it has on the simple power of touch among people.
"I hate that we can't be around people. I worry about the little ones [that aren't able to touch.] Touch is so important to development," Huizar said.
"I hate that I can't hug my mother," Mrs. Patricia Miller, the health aide, said. "She'll be 92 at the end of this month."
Although we have not beaten COVID-19 yet, many people believe that with the news of two vaccines, the end is somewhat near. However, until then, avoiding contracting the virus seems simple.
"Wear a mask, wash hands, social distance. Really, that's all we can do before we get that vaccine going. And even then, it's going to take a while to get everyone vaccinated," Huizar said.
—-
If there are issues with this article, report it here.