Theatre adjusting to COVID-19, new competition rules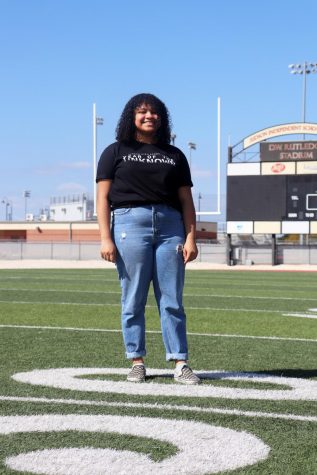 More stories from Savannah Bolton
During the time of COVID-19, there have been many adjustments that have had to been made in order to keep everyone safe and prevent people from getting sick.
Schools are always places that germs can travel easily – many extracurriculars have had to be put on hold during the pandemic or another solution has had to be formulated.
Theatre is one of them.
Because of that, the organization did their first three competitions online, instead of in person as it is typically done. The theatre had to employ different methods to successfully compete. 
"Students show up at 7:30 a.m. to the school zoom meeting," head theatre director Larry Bailey said. "Then, they get their room assignments and then break out to [competition] rooms where a judge is waiting to hear them perform."
As well as the Zoom meetings, there is also another procedure to help students get through each round. 
"Sometimes, they also have to record themselves and send in a link for the judge to look at. Then, they wait for the results to be sent to me to find out if they moved on to the next round," Bailey said.
Issues arise with these methods. 
"Competing with different internet speeds has been difficult for the students overall," Bailey said. 
With this differing system, there are slight challenges that come with the method. 
"One of the biggest things that I don't like is probably the differing competition setups, because it's [all] a new format," senior Joshuah Mayo said, "We're having to shoot some videos and then send them in for some competitions or sometimes they would have virtual live competitions, so we have to be on a computer all day and try to compete in this completely new setting."
However, even with those issues that may be hard to overlook, there were some positive aspects to the situation.
"I like the fact that we can compete nationwide without the cost of travel," Bailey said. "But the kids are missing out on the experience of live tournaments and that's a big part of the fun. I hope things get back to normal soon."
Especially during the pandemic, and how students are not allowed to be around each other for long periods of time, students are bound to feel a bit upset. 
"My upperclassmen really miss the old ways of doing things. They feel like we don't get to socialize enough with each other. That helps build the team," Bailey said.
Even with these difficulties, and the mixed feelings about the situation, there are still positive aspects that can be highlighted — while also staying positive. 
"We're starting off the competition season pretty great and I couldn't be more proud of us for getting through what we've done so far," junior Amanda Perez says." It's all about working with what we've got, and with that, we'll continue to push at our craft. And make the most of it together as a team, even if it's across the screen." 
Even during times of the COVID-19 pandemic, there will still have to be ways of students doing what they enjoy – especially their school extracurriculars. Methods may have to be worked through and issues have to be worked around, but the competitions can still be quite successful.
—-
If there are issues with this article, report it here.