Theatre puts on "Little Shop of Horrors"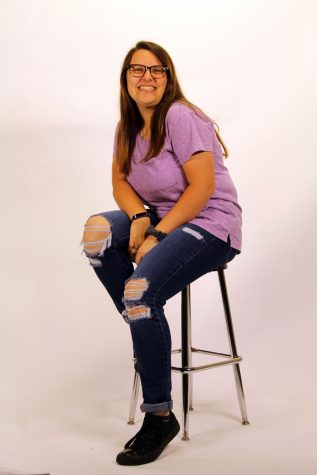 More stories from Molly Tilton
On Tuesday, November 19, 2019, the Judson theatre department put on its first play of the year, a musical comedy titled "Little Shop of Horrors." 
The star of the show was an awkward florist, Seymour Krelborn, played by junior Joshuah Mayo. Mayo was not only the lead but doubled as the choreographer as well. 
"It [choreographing] was kinda easy. I can do my thing and trust that they know what to do," Mayo said. "But the role required a certain level of awkwardness. It's like stepping out of my comfort zone." 
Opposite of Seymour is the beautiful but ditzy, Audrey Fulquard, played by senior Sierra Petty. The florist, Mr. Mushnik was played by sophomore Aaron Anderson. Dr. Orin Scrivello was portrayed by senior Llailan Bennett, who delved deep into the abusive role. 
"I did a lot of research and looked into a lot of abuse cases. I wanted to create a character you'd love to hate," Bennett said
Throughout the show, there are many different characters that are seen, but perhaps the most essential actress is never truly seen. In the role of the mischievous plant is senior Serenity Gonzalez, voicing the seemingly inanimate object perfectly. 
"Voices really make a character," Gonzalez said, "But I also worked with the puppeteers to make sure their moves matched what I was saying." 
Narrating the musical, like the Muses from Hercules, were the Ronettes, comprised of junior Jaden Cervera, and sophomores Julianne Chapa and Jiana Jennings. 
"The Ronettes and the Muses are basically the same things," Cervera said. "They're just kinda telling the story." 
Despite the obvious talent and confidence of the cast, many of the leads have never held roles of this amplitude before. 
"A lot of the leads haven't had their time yet. And like for me, I know that I really have to take this and build on it because this is my time to shine," Cervera said. 
Putting on a show is always stressful, but this year consists of added stress. The musical will be entered into the Jocye Awards, a prestigious competition for musical theatre. 
"There's a lot riding on this, I mean there's a big chance for scholarship money," Petty said. "They send scouts to the show and if they think it's good, you go and perform for them. If they think you're really good, you could go to the Jimmy's in New York."
In the end, the entire cast just put their all into the performance and kept the audience on the edge of their seats through laughter and sorrow. There will be a second showing on Wednesday, November 20, 2019, at 7 pm in the PAC Auditorium.