Chief Williams finds God through the military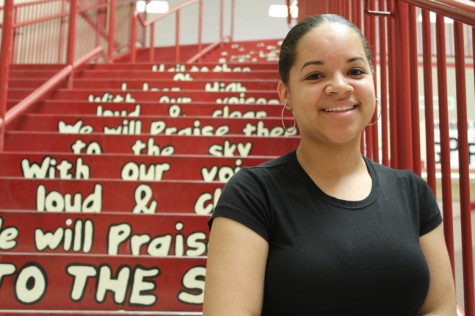 More stories from Tyler Williams
Mr. Aaron Williams teaches Law Enforcement and Principles of Law. Known to students as "Chief," he enlisted in the Navy in 1985 as a military policeman. Over 20 years, Williams has taken many tours overseas and has had the chance to see many beautiful foreign countries.
Before heading into the military, Williams spent six months in college. He realized that it wasn't for him. He decided to join the Navy to get his life on the correct path. It gave him something to fall back on, and it also gave him the discipline he needed.
"It was immeasurable how it changed my life," Williams said.
Williams's favorite part about being in the military was the travel, going to different places and learning not just about how different people were, but how different cultures were.
In 1999, he lived in Guam and Italy, and ended up staying in Italy for three years.
"When I was a child, I'd always look at the TV and think to myself, 'Man what would it be like to live there, or go there,' " Williams said. Being in the military helped Williams fulfill that dream.
During his career, Williams decided that he needed God. That led him to start preaching as a way to inspire others. In 2006, Williams started his own church, "My Father's Business Fellowship."
"I was lost and God found me," Williams said.
Williams wanted to leave something that can be passed down to his kids, to let them know where they came from. This inspired his book, My Father's Business: A Memoir of Purpose and Revelation, which is about his journey to finding purpose and meaning through life and through Christ.
"When I leave this earth, I wanted to leave something so they can look back on their family history and have a legacy," Williams said.
After his 20 years in the military, Williams began teaching in 2009. He says his favorite part about teaching is touching the lives of his students and hopefully being able to make a difference in their lives. He wants to help his students bloom to be a positive influence and help them grow and develop into positive members of our society.
"I'll never die because I'm a teacher. Because I live through my students," Williams said. "That's my paycheck."