Track advances to state
Junior Kaycee Brown advances in 100- and 300-meter hurdles, while boys relay, 100 and 200 also advance.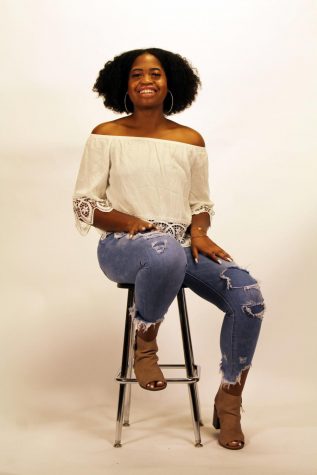 More stories from Raven Gatson
While graduation and senior events are around the corner, members of the girls and boys track team set their sets on another upcoming event: the highly anticipated 6A state championship track meet.
The girls track team, winning both district and area, put up a fight at the regional track meet, placing third in the 400-meter relay and fourth in tje 800-meter relay. However, as for junior Kaycee Brown, it was another smooth glide into the state championship.
For the third consecutive year, Brown will be representing both the girls track team and Judson High School at this year's state meet in the 100 and 300-meter hurdles.
"It's exciting. I'm so ready," Brown said.
Brown staked her claim throughout the year, especially showing up big in district and area, placing first in both hurdle events.
Brown came up short in the 300-meter hurdles last year, finishing fourth overall at the state meet. She hopes to make a return not only getting first in that event but now has a shot at the 100-meter hurdles.
"I feel more prepared both physically and mentally. I have more confidence this year because I didn't make it in the 100 [hurdles] last year, but I made it in both the 100 and 300-meter hurdles this year. I also improved on getting over the hurdle quicker," Brown said.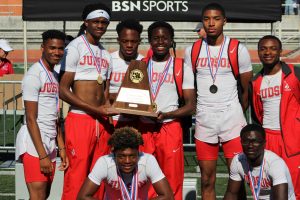 Alongside Brown, the boys track team found major success at regionals capturing first. At state, they will be competing in the 100-meter dash, 200-meter dash, and all relay events.
Being named one of San Antonio Express-News' Athlete of the Week, senior Drequan Crawford is the only returning relay runner from last year's state meet with new relay/state teammates including junior Antony Shelton, senior Treshaun Ferguson, junior Maxwell Rutherford, senior Richard Kukyendoll, senior Kenyon Morgan, senior Roderick Johnson, and senior Bryce Francis.
However, the goal is still the same, as all the boys want to win in their respective events, and don't feel unnecessary pressure in living up to last year's relay teams.
"We've been progressing throughout the season, so hopefully we run our fastest time at state," Crawford said.
The same sentiments were mimicked by Shelton.
"We've been cutting the time shorter and shorter [on 4×200], so hopefully we beat out the rest of the competition," Shelton said.
Regardless the boys track team put in countless hours of work this year and are ending this season on a high note.
"I'm really proud of how we've done this year. We only got better as the days went and really came through when it mattered. We stuck to it and believed in each other and now we're looking at a major end to the season," Rutherford said.
The 6A state track meet will take place on May 11, at the University of Texas at Austin in the Mike. A Myers stadium.