Campus sets up pop up Holocaust Museum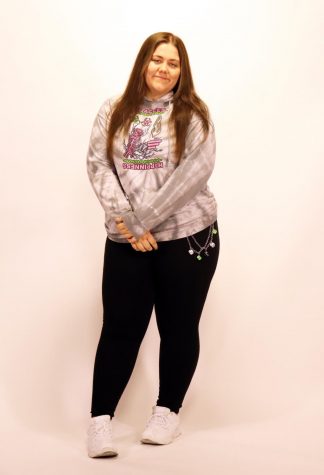 More stories from Riley Grogan
Earlier this week, while students and most staff members were at home for a district-wide holiday, campus librarian Mrs. Mariya Ortiz and World History teacher Mrs. Crystal Rohlke set up a pop-up Holocaust Museum in the Diamond J.
Ortiz and Rohlke both signed up for a training about Holocaust Remembrance Week. Rohlke had banners loaned to her from the San Antonio Holocaust Memorial Museum for a week and wanted to do something bigger with them while they were in her possession. This is when the two got together and began brainstorming what they could do. They eventually came up with the idea of a pop-up interactive museum for students. 
"We can't really take our kids on a field trip, but we could bring at least the idea of the museum back to us so that kids could have the experience of a smaller museum," Ortiz said.
The display consists of a few panels from The Holocaust Memorial Museum of San Antonio and several books from the school's library that focus on the Holocaust, Holocaust survivors, advocates, brave people that fought, and other things that you didn't necessarily learn about in class. Another part of the display focused on people of color and how they struggled during these times, which also included library books and panels from the museum. 
"We're both very passionate about this idea about how important it is to teach, especially teenagers, about human rights, and dignity, and what happens when we don't respect humans. Especially humans that are different from us, as we've seen it play out in worldwide hatred, like the Holocaust," Ortiz said. 
Rohlke felt that it was an injustice to have the banners just sitting idly in her room without doing something useful with them. She wanted to do something bigger by providing the campus with an opportunity to remember and educate themselves more. 
"I felt that the Holocaust is something that is disappearing, not just from text but also from everyday life. Our veterans are dying, so I felt that if we could share those with the community and with Judson as a whole, that it meant more than just being locked up in my room," Rohlke said. 
Ortiz wanted to set up this display, because she felt as though standing on the sidelines just wasn't enough anymore. She wants to get more involved and take action against things that she is just not okay with happening. 
"I've always kind of been an advocate, but something happened where it just wasn't enough to stand on the side and go 'Oh, I support you!' anymore, I moved into an allyship. I don't just stand on the sidelines, I get involved and sometimes it means that I get in front," Ortiz said. 
Rohlke's NHS students are participating in the display, and acting as docents or "tour guides" for the pop-up museum. 
"I couldn't have my students down there since I don't have very many in class, but for now it was just the NHS students who could be down there to show that leadership and be that bridge of communication while we are in this time of the pandemic," Rohlke said. 
It's important to not forget about the events of the Holocaust just because they happened in the past, it's something that should always be remembered among students. 
"We can't forget about the Holocaust on any level. It's not just about World War II and that time frame, it has bigger meaning throughout history. We need to look at it on a larger scale, because there's that common notion of history repeating itself, and we don't want that to happen. And when you look at current events, and you can see those connections, it's important to try to stop it now, so we're not facing another genocide," Rohlke said. 
—-
If there are issues with this article, report it here.