Review: Halsey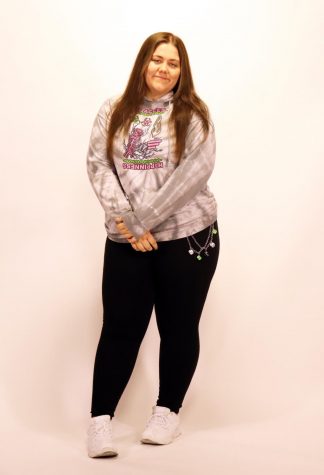 More stories from Riley Grogan
"If I Can't Have Love, I Want Power" is American singer and songwriter Ashley Nicolette Frangipane, or better known as Halsey's, fourth studio album, released on August 27, 2021. Halsey began making a name for herself and was signed by Astralwerks in 2014. She has 22 singles, including: "Gasoline" on August 28, 2015, "Bad At Love" on August 22, 2017, "Eastside" on July 12, 2018, and "Without Me" on October 4, 2018. 
This album opens with "The Tradition," leading with a soft instrumental and a mellow aura to kick off the album. Halsey sings of a seemingly lonely and innocent girl being "bought" for a small price, only for the buyers to quickly regret it. "Her soul is black and it's a fact that her sneer will eat you alive," possibly an idea of making the mistake of underestimating someone. It's a beautiful song with powerful lyrics and a perfect emergence of this brand new album.
Track two, "Bells in Santa Fe," has a very melancholic energy behind the instruments and the lyrics. The song begins with a reference to the popular 2017 movie Call Me By Your Name with the lyrics "Don't call me by my name." This was Halsey's way of expressing her support and membership of the LGBTQ+ community, considering the critically acclaimed movie was of a relationship between two men. This was a lovely, passionate, and powerful song with touching lyrics.
The sixth song, "You Asked For This" is the perfect representation of the transition from being a girl, to being a woman. As a girl, you watch women around you and wish you could grow up faster; only to come to the realization that being "grown up" is not all that great. This song is an unsugared slap of reality, and should be taken as a message to young girls around the world. "You Asked For This" is among the better half of the album, a great addition and definitely worth the listen.
"Darling" is the seventh track on the album. This song starts with a soothing and warm rhythm, the lyrics are virtually reaching in and caressing your eardrums. She sings softly of comforting someone when they're down. "Darling, don't you weep. There's a place for me, somewhere we can sleep. See you in your dreams." This may or may not be a reference to death – it is possible Halsey is singing from the perspective of a ghost to a grieving loved one. The song ends calmly and smoothly transitions to the next track. 
The eleventh track, "I am not a woman, I'm a god" is one of the most touching songs on the album. It has powerful lyrics, an enjoyable rhythm, and a dynamic message to all listeners. Halsey has every right to own her power and be confident within herself. She has produced very influential music and even a film of her own as well. This song has an element of surprise to it, you don't expect an almost arrogant title on an album full of motivation for girls around the world, but I'd like to think no one is complaining. 
This album felt like a walk down a red carpet aisle. Every song had an individual powerful message, an amazing rhythm, and the entire album was packed full of powerful energy. I would recommend this album to a group of young girls – it gives off a sense of self acknowledgement and finding one's confidence. It can be very inspiring, especially to the more impressionable mind. If I could give the album a star review, I would give it ten out of ten, it was beautifully written and performed. 
—-
If there are issues with this article, report it here.