Crosslight created to reach students with the message of the gospel
More stories from Arica Hawkins
Dedicating one's teen years to the constant worship and adoration of God can be difficult in itself. Try taking that dedication to the public eyes of public high school.
Scary.
That's what the Christian group Crosslight does every single Wednesday in room H116.
Crosslight is a club created to reach students with the message of the gospel – that Christ died to save us from our sins and he now calls all to repent, follow him and have eternal life.
Unlike many Christian groups, Crosslight teaches that the only way to heaven is not through works, not through you, but through Jesus Christ.
"Here at Crosslight, we want to proclaim the message of the bible to all students, believers or not," senior Noah Tiemeyer said. "We want everyone to know that God loved us enough to send his son to save us from our sins. Now, he calls us to follow him."
Many people have had this desire, this aching feeling to be a part of something or someone greater. In the case of Alexander Fuentes, who after leading down a path that was destroying him, decided to change and find God. Now, he tells the people of Cross light his story of overcoming life challenges.
"I joined Cross light because I desired to know more about God and his greatness," senior Alexander Fuentes said.
For those seeking something, or for those who are simply curious about Christianity or just God in general, look deep into yourself, sort how your feelings towards Christ, towards religion, and keep on from there. Learn about the Bible, seek advice perhaps from the ones in Crosslight and make your way through to discover you want to be.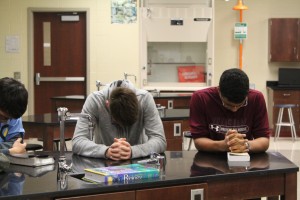 "I'd be honest with yourself and where you're at with him," Tiemeyer said. "Ultimately, he has revealed everything we need to know about him in the Bible. So, I would say look and see what the bible says about how we can know him."
Imagine broadcasting your love, your commitment and complete submission to God in front of a campus packed with 4,000 students. It is rather challenging, but Crosslight manages to get it done every Wednesday with a strong and successful group. They manage to deliver the full passionate message of Jesus Christ, their savior.