Football beats Smithson Valley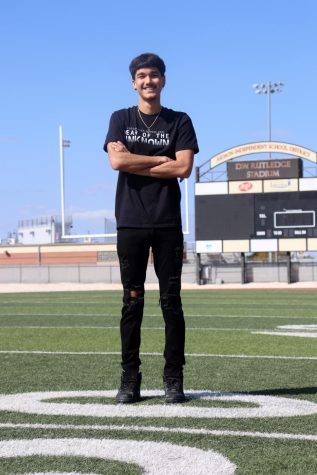 More stories from Justin Lopez
On Friday, October 18, in a game that was clouded with controversy, the Judson Rockets (7-0) faced off against the Smithson Valley Rangers (4-3) in the annual Pink Out game. 
To start the first quarter, the Rangers established their run game, marching up the field for their first touchdown of the game. The Rangers then shut down the Rocket's first offensive drive to get the ball back, leading to a big run. After the run, the Rangers kicked for two making the score 10-0. Then, the Rangers made another defensive stand, picking off senior Michael Chandler to end the first quarter.
During the second, the Rangers drove down the field and had another big run to put them at the 23 yard-line in Rocket territory. Senior Darius Hughes stopped their momentum and scooped up a fumble for a big return, leading to a touchdown reception by Senior Anthony Shelton making the score 7-10. After a touchdown run from Junior De'Anthony Lewis, a flag was thrown pushing the playback leading to a turnover on downs. The Rockets blocked the punt giving them the ball back, which gave them a minute left to score before the half. With five seconds left on the clock, the Rockets made a field goal, tying the game ending the second quarter at a score of 10-10. 
During the first play of the third quarter, Chandler made a big scramble for a touchdown, making score 17-10. From there, the Rockets caused a fumble and recovered, giving them the ball back on the 48-yard line. Yet, the Rangers immediately got the ball back with an interception. After a long drive by the Rangers, they settled for a field goal, giving them three more points, 17-13. Lewis answered back with a big run, putting them at the 18-yard line in Ranger territory. After a personal foul was called, the Rockets punted the ball away. The Rockets received the ball after a punt by the Rangers. During their drive, the quarter ended with the Rockets near the end zone.
At the start of the fourth, the Rockets turned the ball over on downs. Then, the Rockets stopped the Rangers offensive drive with a tipped interception by sophomore Treylin Payne. Two plays afterward, Chandler kept the ball and ran up the middle for a Rocket touchdown making the score 23-13 after a missed extra point. The Rangers couldn't seem to get their momentum back. After a long drive, they settled for a field goal but missed. Lewis made another big run to put the ball on the 15-yard line and capitalized with his own touchdown to make the score 30-13. After both teams had long drives, the game ended with a score of 30-13.
The Rockets (7-0) will take on the Canyon Cougars (0-7) on Friday, October 25.