Football beats South San
More stories from Kevin Duhart II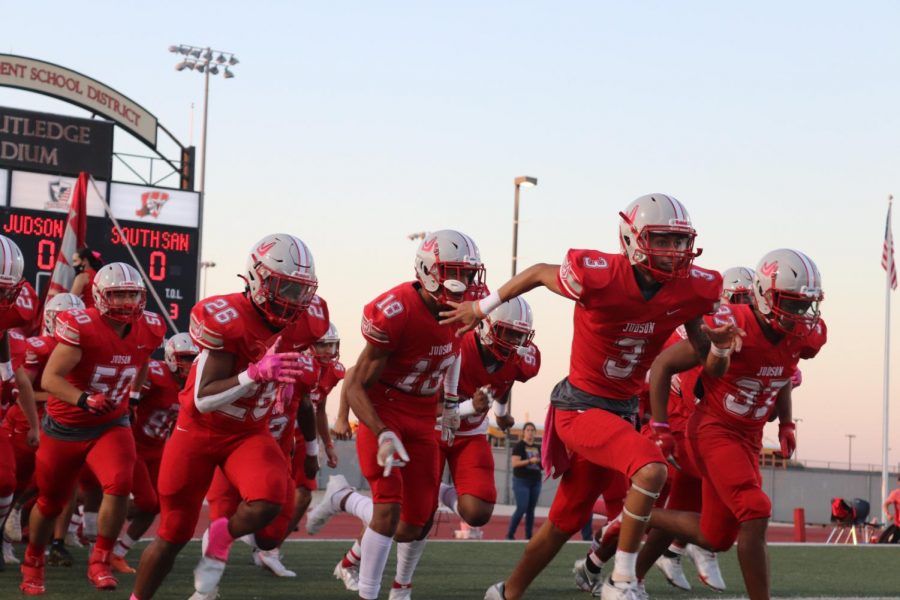 On October 7, the Judson Rockets faced the South San Bobcats at D.W Rutledge Stadium.
To start the game, the Rockets got off to a bad start as they fumbled on their first drive and the Bobcats recovered, giving them possession. Throughout the quarter, it was a back and forth battle with both teams not being able to move the ball. The Rockets finally got things going as they got another stop, gaining possession late in the first. After a slow and methodical drive, the Rockets struck first with a handoff to sophomore Nathaniel Stanley, making the score 6-0. The field goal was made by junior Adrian Cortez, making the score 7-0.
To kick off the second quarter, the Rockets kicked the ball off to the Bobcats. The Rocket's defense was playing phenomenally, as they got another defensive stop, forcing the Bobcats to punt. With the big stop, the Rockets were able to strike again with another handoff to junior Ariez Sylve-Matauatia, making the score 13-0. Cortez made another field goal, making the score 14-0. With both teams experiencing defensive stops, the Rockets retook possession and capitalized with another score, making the game 20-0. The Rockets tried to go for a fake field goal, but it was stopped
The third quarter was uneventful until the Rockets finally scored with seconds until the end, on a jet sweep handoff to junior Jerimiah Dunn, making the score 26-0. Cortez made another field goal, making the score 27-0, taking the game into the fourth quarter.
To start the fourth, the Rockets gained possession again with another defensive stop and scored with a quarterback scramble run by senior Micheal Burroghs. Cortez made the field goal once again, making the score 34-0. The Bobcats received the ball and tried to move the ball but the Rockets defense did not let up, forcing the Bobcats to punt again deep in their own territory. The Rockets gained possession late in the fourth but got stopped and were forced to bring the field goal team in. The 45-yard field goal was up and good for Cortez making the final score 37-0. 
The (2-4) Rockets are set to face the (3-2) East Central Hornets on Friday, October 15, 2021, at D.W Rutledge Stadium at 7:00 pm. 
—
If there are issues with this article, report it here.