Lady Rockets beat Canyon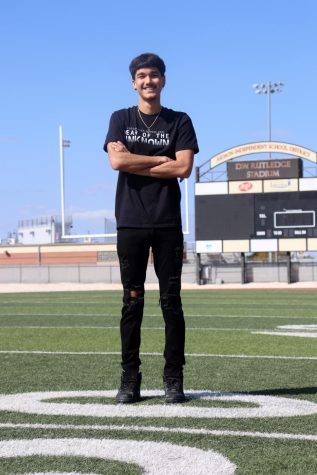 More stories from Justin Lopez
The Lady Rockets (21-8) faced off against the Canyon Cougers (9-12).
The Lady Rockets started off slow as they wasted a minute on missed shots and fouls. Canyon put the first two on the board from free throws, but sophomore Amira Mabry quickly answered with a layup and a steal to add an and-one play by senior Chriresha King to make the score 5-2. Canyon put another two on the board with a layup. Mabry got fouled and made both shots, putting the Rockets up to seven. She also got a steal, which led to a foul on junior Kierra Sanderlin giving her two shots. She made one but got her own rebound, making it a three-point play. Canyon quickly answered with two shots, but both were blocked by Sanderlin, which led to a layup by Mabry. Mabry got a putback layup to put the game at 14-8. Sanderlin also made a layup. Right after, senior Tianna Huggins shoot a fade-away shot, putting the game at 18-8 to end the first quarter. 
To start the second quarter, senior Jonmecia Baskin made a layup, leading to Sanderlin making another block to give the Rockets momentum. Baskin got an and-one call and made the shot, making it a three-point play. Huggins got a steal, but the Rockets got a foul, turning the ball over. Sanderlin got the ball back with a steal, which led to a foul, giving Baskin two shots. However, she couldn't get any to fall. Immediately after the foul, Huggins got another steal and floated the ball in for two. 
Nothing is going well for Canyon as they turned the ball over yet again and Baskin made them pay with another layup. Sanderlin got fouled on a three-point shot, but couldn't get them to go through, keeping the score at 27-8. Sophomore Michaela Verett got fouled and made both shots, furthering the Rockets score. Canyon finally made a shot, making the score 29-11. Mabry made a layup giving the Rockets an extra two points. The half ended at 31-13 with the Rockets up. 
To start the third quarter, Mabry began with a layup. Canyon got fouled at the three-point line, they made two out of three shots. Baskin made a layup to make score 35-18 and Huggins also made a fast-break layup, forcing Canyon to take a timeout. Canyon got a foul called on them and they made both shots. Sanderlin answered back with a mid-range shot to give Rockets two. Canyon got fouled twice consecutively and they made all shots putting the score at 39-24. Afterward, Canyon also made a three-putting the score at 39-27. Sanderlin is fouled and made both shots. Huggins is fouled and she makes no shots to end the quarter. 
After both teams struggle to score, Sanderlin got a block to give Rocket's momentum, but Canyon quickly shuts it down with a floater for two. Sanderlin got fouled and made both shots furthering their lead to 43. Canyon answered back with a three, but Sanderlin got fancy with a euro-step layup for two to shut down Canyon. Verett got fouled and made one out of two shots.
Right after the foul, the game was paused due to a scary injury that left a player unconscious. After the resumption of the game, both teams were struggling to score, but Canyon made a three to break the ice. Canyon also made a three which put the score at 48-40. Canyon got fouled and made both shots but Sanderlin also got fouled and made both shots ending the game at a score of 50-42 with Judson taking the win. 
The Lady Rockets play Tuesday, January 21, against East Central.
—–
If there are issues with this article, report it here.