Model UN, GSA and NHS hold movie night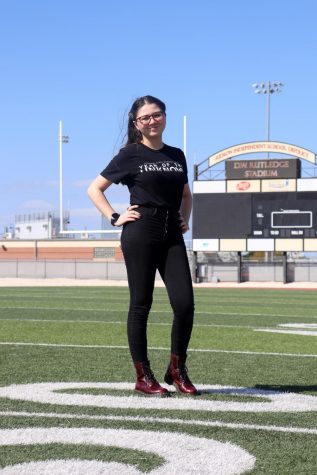 More stories from Brooklyn Ellis
As a new club on campus, it can seem like the greatest hurdle is simply finding your footing. Despite this, the newbie organization, Model United Nations, is quickly establishing itself.
Over 275 students piled into the cafeteria Thursday night to watch the cult classic The Nightmare Before Christmas and enjoy various snacks provided by Model UN, GSA, and NHS.
Groups of students of all ages huddled around the screen in front of the cafeteria while some hung on to every whim of the film. Others took more pleasure in simply enjoying the company of their friends.
"I feel like it really just came from being in the spirit of Halloween and Christmas as well. It's all about getting in the holiday type of feel," Model UN Vice-President Vanessa Bulerin said.

The event was free to ensure all members of the community had the opportunity to attend. The hosting organizations sold various snacks and refreshments.
"I was really excited to see a sense of community in Judson High School and all these clubs coming together seemed something really exciting," NHS President Sarah Eckenroth said.

The function was originally intended to be held outside as a movie-on-the-lawn, but due to the cold weather, it had to be moved indoors. Despite the change in plans, this did not prevent the attendees from enjoying themselves.
"I feel like [the event helped] bring people together because we had a lot of people come and sitting in groups. I feel like it was kind of relaxing because it's been such a busy week," Model UN President Abigail Burris said.
The hosting organization hopes to gain a larger following and establish themselves as a well known and heavily involved club, both on campus and in the community. By inviting both GSA and NHS to join them, it allowed the event to gain a much larger outreach.
"We definitely want to be known in this school like we want to have more of a reputation we want to be known for being friendly and hosting really fun events where people can just really enjoy themselves," Burris said.
After seeing the immense amount of success from this gathering, they hope to hold a second movie event in December in order to commemorate the holidays. Depending on the weather situation, they are hopeful that this one can be held outdoors, as originally planned.