Sophomore Bryce Wisdom recovering from kidney removal due to cancer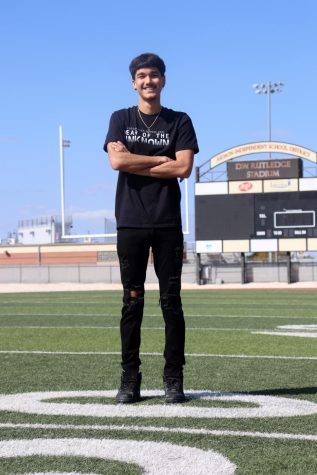 More stories from Justin Lopez
According to the American Cancer Society, doctors have 500 to 600 new cases of Wilms tumor every year in the United States, which is a common type of kidney cancer but rare amongst people under the age of 45.
Sophomore Bryce Wisdom, a Judson High School student-athlete, was one of those rare cases.
 According to the American Cancer Society, the cancer forms when the cells begin to grow out of control. The tumor can either be unilateral (affecting one kidney) or bilateral (affecting two kidneys). Named after Max Wilms who discovered it over 100 years ago, the condition is also referred to as Nephroblastoma, 
According to Mayo Clinic, the majority of Wilms tumors are undetectable until those with the tumor have symptoms such as abdominal mass, swelling, and pain, including fever, blood in urine, and constipation.
These symptoms begin to develop in Wisdom over spring break.
"I started to have bad side pain on my right side. I told my parents but we just thought I was sore," Wisdom said.
During the first day back from spring break, Wisdom went to the bathroom and discovered blood in his urine. He was then taken to the emergency room.
"I told my parents and they took me to the ER. When I got there, I told them what happened and they just said that it was urinary tract infection," Wisdom said. "But when they took a scan, they saw I had a big tumor on my right kidney and I was going to have to have surgery to get it removed."
Emotional, he couldn't believe what the diagnosis was. He was concerned for not only his health but what it meant for his future. After processing the situation, he started to think somewhat more positively after the tumor and kidney was removed.
"When I first found out, when I read about it, I didn't want to believe it. I was sad for the first few hours after I found out I had one kidney. But after a while, I started to calm down cause if I had to pick cancer, I would choose this one because you can live with one kidney. So, survival was high," Wisdom said.
He's back at home, calming down, getting stronger, ready to get back to what makes him happy.
"I just want to be able to run and play sports like I used to because right now, I can't really walk cause of this cut, " Wisdom said.
Most importantly to Wisdom, he wants his life to go back to the way it was and overcome this new challenge that he is facing.
"I'm hoping that everything's ok and I'm cancer free so that everything can go back to normal and I can see all my friends again because sitting in this house is boring," Wisdom said.
You can assist the family by donating to their GoFundMe account.