Students attend area LibraryPalooza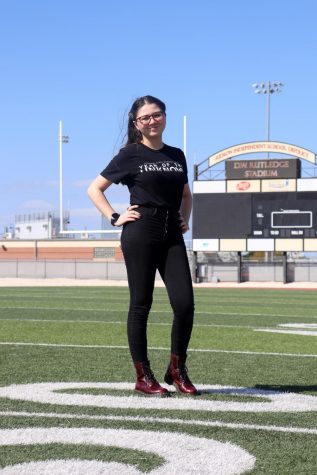 More stories from Brooklyn Ellis
On Saturday, February 29, Judson High School students took a trip to the annual LibraryPalooza at Brandeis High School. 
They had the opportunity to hear six different authors speak about their books and journey to becoming world famous writers. The speakers included Alan Gratz, Judd Winick, Tiffany Jackson, Tochi Onyebuchi, Marissa Meyer, and Sandhya Menon – all accomplished fictional novelists.
"My favorite parts are always watching kids get so excited and having students see their favorite author," librarian Mrs. Mariya Ortiz said. "That enthusiasm that they experience by having the chance to meet those authors, it's like now they're creating enthusiasm for books in their classrooms and with their teachers." 
The day began with a panel of all six authors, in which they were asked a series of questions about their work and journey to becoming a successful writer.
"When I was there, it actually made me more comfortable because it's nice to know that the book you're reading has so many other people that actually like them, the same topic, and it makes you feel more comfortable and safe," sophomore Yahir Garcia De Leon said.
Afterwards, attendees split amongst all of the authors in breakout sessions. Only three sessions were offered, so attendees could listen to only half of the authors speak.
"It really changes you as a reader. When you have the opportunity to meet the person that is building this world that you've fallen in love with," Ortiz said. "You get so engrossed in it that to be able to meet the person that created that world that you love living in is like the best experience ever."
Attendees were able to get their books and merchandise signed and interact with the writers.
"It brings everyone together and it's just a nice environment. It was nice to get a whole bunch of cultures thrown into it, and especially the authors," sophomore Jacqueline Coleman said. "Getting that one on one experience with them and seeing how passionate they are about the book definitely made me want to read their book."
This year's turnout is the largest group that Judson has ever seen.
"We were super excited because last year ten kids went, and we saw Wagner had two kids and Veterans had four kids. For 20 kids to show up on a Saturday and say, 'Hey, I want to go talk about books and meet authors,' that for me is a huge accomplishment and shift in the culture of reading we're trying to build," Ortiz said.
Next year, Judson plans to attend LibraryPalooza on Saturday, February 27, 2021 and intends to continue to offer various reading and writing opportunities throughout the year to encourage students to keep reading.
—–
If there are issues with this article, report it here.