Animation students design unity mural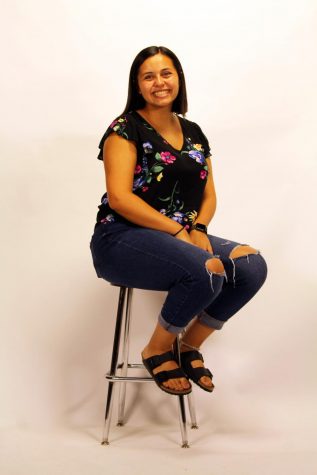 More stories from Madalynn Lambert
Judson High School has a large number of students. Sadly, humans judge by looks, styles, and first impressions, which, unfortunately, is all based on stereotypes. However, on this campus, the majority of students all have the same mission – to get an education.
The African-Mexican-American Student Union (AMASU) wanted to make a significant symbol in the school that showed student's differences, but also showed how the students are all "united." The AMASU sponsors, Ms. Monica Nichols and Chief Aaron Williams, decided to contact some of the best artists on campus in the animation program.
"We came up with the concept of having six students of different ethnic backgrounds, social backgrounds, genders, and sexual orientation to come together and show unity," animation teacher Mr. De'Angelo Freeman said. "We wanted it to be a representation of all the students."
The team that worked on the mural were seniors Donald Bosier, Aileen Salas, and Elayne Meza. They went through a series of drafts since October and came up with the final design in January.
"We first started out with the concept that demonstrated the separation of how we judge each other, but it eventually became a position of unity for us all," Salas said. "We started to think: we are all together, we're all mixed with diversity and culture, so we're going to do a lineup."
The overall mission of the mural is to defeat stereotypes and spread unity.
"With a school so big and diverse, we still experience separation," Freeman said.  
Fortunately, this mural has already started to make a difference.
"Us being able to put [the mural] on the wall that [represents] equality felt like [we already made] a huge impact," Bosier said.
AMASU only started this year and has already left their mark on campus. And they only plan to grow.
"What you see now is our ending point," Freeman said. "We want to show the timeline of how we get to the past, future and present, which is us coming together, defeating the stereotypes and hatred, and spreading the love."
This project showed how students genuinely came together to get their point across in a respectful, beautiful way.
"It felt very rewarding to see [the students coming to participate]," Freeman said. "It made me proud, as a teacher, to see people coming to paint something so positive and to leave their legacy on campus."
The mural truly means something different for everyone in positive ways.
"When you look at this mural, you see a representation of everybody. That's the goal," Williams said. "I hope people see humanity. We're all different shapes, sizes, and colors, but we're still one. Everybody's here with a desire to get an education."