Sophomore Victoria Villaflor receives support from swim team after shaving her head due to Alopecia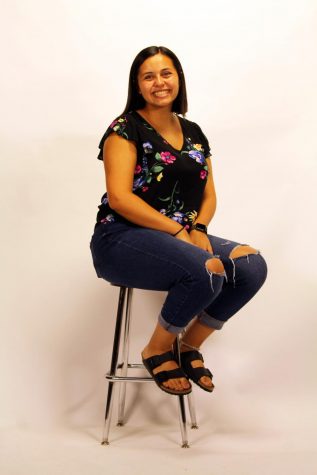 More stories from Madalynn Lambert
High school is the time where kids grow into young adults. It can be the best and worst times.
One of the points of high school is to figure out their ways of overcoming the trials and tribulations they go through. 
Sophomore Victoria Villaflor was diagnosed with Alopecia in December of 2018, which is a condition that causes sudden hair loss. It can be found throughout one's whole body. But for Villaflor, it was only found on her head. 
"I have been losing hair since last year," Villaflor said. "This December marks a year."
She was also diagnosed with epilepsy early in 2019. 
After months of trying to hide her hair loss, Villaflor decided to shave her head on Tuesday, October 22. 
"I've thought about shaving it before," Villaflor said. "I've heard a lot of good things about shaving it and how it can improve it. 
When she was diagnosed with Alopecia, Villaflor was heartbroken because she loved her hair. 
"Growing up, I had beautiful, thick hair that my family was always jealous of and that everybody wanted," Villaflor said. "So, it was hard." 
While she shaved it, she was with her mom, sister and was sure to FaceTime her other sister as well.
"All of us cried while cutting it," Villaflor said. "I have never cut my hair past my shoulders. And right when I cut it it was a big deal."
Luckily after cutting her hair, there were no regrets. 
"I feel like [my hair] was something that was weighing [me down]," Villaflor said. "Since then I feel freer. I don't feel like I have to cover up anything or hide anything. I feel more of myself, comfortable, and I feel like I can spread more awareness in a way that you don't have to be in your norm." 
After shaving her hair off, Villaflor was nervous about going back to school, but she was welcomed back with open arms. Especially by her swim team. 
Sophomore Kristen Erickson organized the team to all wear blue to show they support her when she came back to practice.
"We are like best friends," Erickson said. "We have a varsity group chat and I kicked her out of it, so I told everyone to wear blue. Nobody knew [that she shaved her head] yet so I wanted her to know she has all of us behind her." 
When Villaflor walked out of the locker room, she was overwhelmed with joy to see her team and coach cheering her on.
"I have an amazing team," Villaflor said. "It's like a family." 
Showing support for a teammate really showed the meaning of "team" to the athletes. 
"It's just good to know that everybody was supporting her and what she did," Erickson said.
After all, Villaflor has been through, she was still eager to get back into her daily routine. 
"I don't really let that stuff step me back," Villaflor said. "I try to keep going."
Having to deal with this at such a young age made Villaflor not only her friends and teammates but especially her family. 
"My parents make a lot of sacrifices which I really appreciate," Villaflor said. "I'm so grateful for all they have provided."
It is evident that Villaflor is a fighter and won't let anything stop her from achieving her goals. With most students, having an inconvenience hit their lives would set them back, but for Villaflor, she just made a major comeback.