Evening High School another option for students
More stories from Stephanie Rivera
As an alternative for students who find going to high school during traditional hours inconvenient, there is a solution. Evening High School is an after school program that is made for students who are unable to attend school during traditional hours for various reasons. The program is held at Judson High School from 4:30a.m. to 7:30p.m. on Mondays through Thursdays.
"Evening High School is just like going to school in the mornings, but with a more flexible schedule," coordinator Ms. Deanna Skinta said.
Any student could attend the program and still be offered the benefits of any regular student, such as being able to graduate, walk the stage and participate in senior activities. However, they could also acquire their diploma and disregard walking the stage because of the circumstances that may have lead them to Evening High School.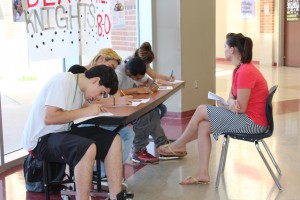 "There are no specific criteria on who can and can't attend," Skinta said.
Students benefit from going to Evening High School because it allows students to work at their own pace, as well as have one on one help with a teacher. Students also receive assistance practicing for SAT tests. It's a great opportunity for students that are behind on credits to catch up and graduate on time.
Skinta interviews students interested in enrolling on Mondays in room A113. Parents have to review and sign a contact before students are able to enroll in Evening High School.