Football blast by Reagan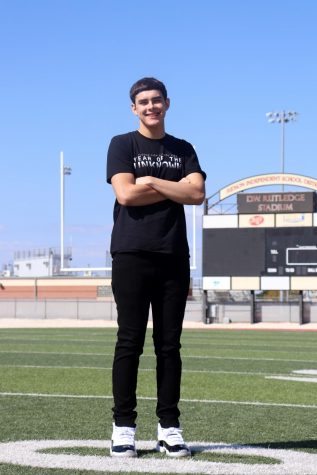 More stories from Thomas Rodriguez
For their second playoff game of the season, the Judson Rockets faced off against the Reagan Rattlers in the Alamodome on November 23, 2018.

Reagan and Judson both shut each other down in the first quarter, with junior Mike Chandler throwing to junior Antony Shelton for the first touchdown of the game, which made the score 7-0 in a fairly quiet first quarter.

On the first play of the second quarter, Reagan's receiver caught and ran for a touchdown, which set up two back-to-back touchdowns from senior Sincere McCormick and sophomore De'Anthony Lewis, which made the score 21-7. After Reagan kicked the ball off, McCormick ran in for another touchdown, which made the score 28-7. Later, junior Amarea Davis caught another touchdown that made the score 35-7. On the first play of Reagan's drive, senior Rashad Wisdom intercepted an attempted flea flicker and ran it in for a touchdown which ended the second quarter, 42-7.

At the start of the third quarter, Reagan's Austin Miller ran in for their second touchdown of the game that made the score 42-14. After a 19-yard run from McCormick, Chandler rushed the ball in for another Judson touchdown, which made the score 49-14. After a heated confrontation between players, there were two unsportsmanlike conduct calls, one on each side, that resulted in senior JT Mulligan of Reagan and Lewis being ejected from the game. After senior Michael Washington intercepted a pass, sophomore Lucas Coley threw a touchdown to senior Jacob Ramos, which ended the third quarter with the score 56-14.

With five minutes left in a fairly uneventful fourth quarter, freshman Myzel Miller ran in for a touchdown that made the score 63-14. As the clock winded down, Reagan scored their third touchdown of the game. However, Judson ended up celebrating their second playoff win, 63-21.

The Rockets will face off against the San Benito Greyhounds at Marrow Stadium on November 30, 2018.