Boys basketball beats South San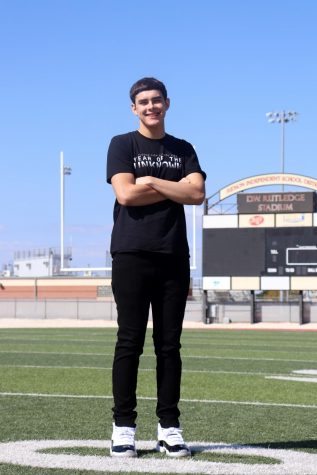 More stories from Thomas Rodriguez
On Friday, January 29, 2021, the Judson Rockets (15-3) faced off against the South San Antonio Bobcats (11-6) for their annual senior night at home. 
To begin the game, neither team seemed to be able to gain an advantage as both teams found themselves tied 6-6 early in the first quarter. Senior Stacey Adams made a nice pull-up three in transition, which extended Judson's lead to 15-10 with 2:43 left in the quarter. The Bobcats were able to keep Judson from going on a big run before the first quarter ended, as they hit a three to end the quarter with the Rockets in a 22-18 lead. 
To begin the second quarter, the Bobcats were able to shorten the lead as a layup brought them within three with 4:47 left in the second. A block by senior Davion Wilson set up Adams for a nice transition and-one lay-up, which increased the Rocket's lead to 30-27 after they made a free throw. Neither team was willing to give the other a chance at widening the gap as they found themselves tied at 34-34 with 1:23 left in the second. After a very tightly contested quarter, the Rockets were able to squeeze out a one-point lead going into the third as they led 35-34 to end the quarter. 
To begin the second half, the Rockets seemed to gain momentum as they extended their lead to 42-37 after two free throws from Wilson. Junior Christian Pillow with an emphatic chase-down block and a three the next possession sent the crowd in an uproar as the Rockets found themselves up 45-41 with 1:25 left in the quarter. The third quarter ended with the Rockets in the lead 50-45. 
To start the fourth quarter, an easy pull-up midrange for junior Treylin Payne increased the Rocket's lead to 54-45. Another block by Miller set up a fast-break dunk by junior Anariss Brandon as the Rockets seemed to finally be able to pull away and increase their lead to 57-47 with 4:31 left in the final quarter. Great hustle and defense by the Rockets turned into easy points on offense as they pushed the lead to 65-50 following back-to-back layups. The Rockets found some momentum as they dominated the Bobcats on both offense and defense to increase the lead to 73-59. With no answer to the Rocket's fast-paced offense and physical defense, the South San Antonio Bobcats were defeated by the Judson Rockets 75-61. 
The Judson Rockets (16-3) will face off against the East Central Hornets (9-10) on Tuesday, February 2, 2021, at home.
—-
If there are issues with this article, report it here.