Football beats Wagner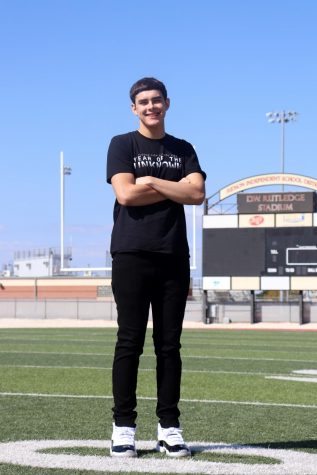 More stories from Thomas Rodriguez
On Friday, November 27, 2020, the Judson Rockets (5-1) faced off against the Wagner Thunderbirds (4-2) at D.W Rutledge Stadium for the annual Hammer Bowl.
The Rockets started the game off strong as they scored their first touchdown of the afternoon within the first five minutes of play. The touchdown catch from junior Andre Jones put the Rockets up 7-0 early on in the first quarter. After Wagner was forced to turn the ball over, another Judson touchdown was scored by senior De'Anthony Lewis, which increased Judson's lead to 14-0. The Rockets then caused the Thunderbirds to fumble on the thirty-yard line, which set Lewis up to score two back-to-back touchdowns. The Rockets found themselves up 28-0 after a commanding start in the first quarter. To end the first quarter, the Thunderbirds scored their first two touchdowns of the game bringing the score to 28-14 with the Rockets up going into the second quarter. 
The Rockets started the second quarter with a kick return touchdown courtesy of sophomore Anthony Evans, which gave the Rockets the lead 35-14. With the Rockets still in the lead 35-14, the Thunderbirds scored another touchdown, which brought the score to 35-21. The Rockets seemed to be unstoppable as they scored yet another touchdown to end the second quarter strong with them firmly in the lead 49-21.
To start the third quarter, the Thunderbirds marched up the field and scored their fourth touchdown of the game. However, the Rockets kept their offense tight, allowing senior Davion Wilson to run in for his third touchdown of the day to conclude the third quarter with Rockets still in the lead 56-28. 
The fourth quarter started off uneventfully but picked up when senior Isaiah Washington was able to run in for a touchdown with less than six minutes on the clock. Shortly after, the Thunderbirds gained possession which allowed them to score their final touchdown of the evening also ending the fourth quarter 63-34. The Judson Rockets defeated the Wagner Thunderbirds in Judson's highest-scoring Hammerbowl since it first became a tradition in 2006.  The Rockets managed to beat their highest-scoring game this year by 11 points. 
On Friday, December 4, 2020, The Judson Rockets (6-1) will face off against the Smithson Valley Rangers (6-2) at D.W Rutledge Stadium.
—-
If there are issues with this article, report it here.