Volleyball hosts Dig for a Cure, falls to Wagner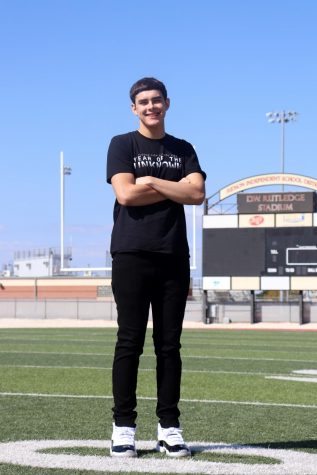 More stories from Thomas Rodriguez
On Friday, October 16, 2020, the Lady Rockets volleyball team (0-4) faced off against the Wagner ThunderBirds (2-3) in their annual Dig for a Cure game at Judson High School. 
The first set began with a great save by junior Dayana Vazquez-Alvarado which set up the Rockets to score their first point of the game. Both teams fought in back-to-back multiple rally's as each team didn't want the other to gain the upper hand. The score was tied 3-3 early in the first set after a kill and a block from Wagner.
The Rockets lead jumped to 6-3 after multiple mistakes from Wagner caused them to fall behind. The Rockets then seemed to crumble as their lead was cut down and Wagner tied the game 7-7 after an electrifying rally ended in their favor. Wagner was forced to call their first time out after they couldn't get over their own mistakes and found themselves down 13-8. For the rest of the set, both teams went back and forth tying the game at 15-15, then 20-20, till eventually Wagner amazingly took the set 25-23 after one of the most exciting rallies of the season ended in their favor. 
To begin the second set, both teams had their share of mistakes which brought the score to 2-2. Eventually, Wagner caught their stride and obtained a 7-4 lead. Great defense and hustle by the Rockets enabled them to finally take the lead 9-8 early in the second set with Wagner trailing close behind. With tenacity and persistence, Wagner successfully took a 17-13 lead over Judson after multiple mistakes on defense caused them to fall behind. Wagner remained dominant throughout the rest of the second set as they defeated Judson 25-16 and gained a 2-0 lead on the day. 
To begin the last set, Judson quickly grabbed a 2-1 lead which didn't last long as Wagner went on to score six unanswered points, causing Judson to call a timeout as they now trailed 2-7. With the same aggressiveness as they showed in the second set, Wagner dominated offensively as they found themselves up 11-3 early on in the final set. With continued dominance, Wagner went on to defeat Judson 25-8 and complete a 3-0 victory over the Rockets. 
The Lady Rockets will face off against the New Braunfels Unicorns tonight at home.
—-
If there are issues with this article, report it here.