Get involved to make those memories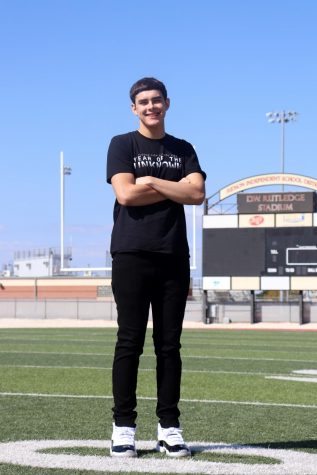 More stories from Thomas Rodriguez
Growing up, I believed high school was a terrible experience everyone had to go through. All I knew was what they showed on TV and what my older family members would come home and complain about. 
Because of this, I grew to fear the day I began high school and tried my hardest to keep it out of my mind until I actually had to prepare for my freshman year. 
Without even knowing, in the summer of my eighth-grade year, transitioning into my freshman year of high school, I signed up for a class that would change my experience drastically and ultimately change my life and how I view the world. 
I needed to fill up a spot and chose journalism simply because all the other options didn't seem any fun and it turned out to be the best decision I could've ever made.
Since then, I've become an accomplished sportswriter and even the sports editor for the school newspaper. I was able to experience the full extent of what it meant to be in high school and what it meant to be enjoying yourself while also getting your work done. Not only did I discover my passion for writing and debating about sports, but I also made some lifelong friends along the way.
Getting involved was the key to my experiences. It allowed me to see new things and meet new people who I would have never seen or talked to if it weren't for the journalism program putting me in the position to do so. Because I had access to almost the entire campus and almost every program in the school, I used those opportunities to make new memories and experience things not everyone got to see. 
The perks I was given opened me up to a whole new world and made it possible for me to make brand new memories, those of which I will likely remember for a long time. Although I didn't realize it at the time, it was truly a blessing to be put in the position I was in. 
The relationships I've made over the last four years are what I truly cherish more than anything. We were able to get through everything together and it proved that not only are we capable of getting through high school, but we also have the potential to be as successful as we want to be as long as we put in the work required to do so.
I grew up with a lot of the kids at my high school, some I've known since I was six years old, so it made it a lot easier for me to connect and make memories with a lot of people. Although I knew a lot of kids prior to high school, some of my closest friends are those who I didn't meet until my first or second years at Judson. If it weren't for the journalism program, I wouldn't have been put in the position to make these kinds of friends. 
The friends and experiences I made are going to remain a part of me for the rest of my life and the stories I'm going to be able to tell are going to be far different than the ones told to me. High school was nothing close to perfect so I'm going to make sure to tell all the ups and the downs I experienced and hopefully inspire a future generation of kids who have to hear my story to get involved. 
I am truly grateful for the experiences I got to make and I am entirely indebted to the journalism program at Judson High School for allowing me to experience such awesome things and meet such amazing people.
—-
If there are issues with this article, report it here.