Girls basketball beats Steele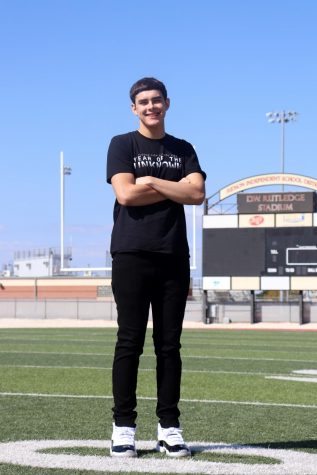 More stories from Thomas Rodriguez
On Tuesday, January 22, the Lady Rockets (27-4) had a district game against the Steele Knights (20-9) with ranking implications.
To start off the first quarter, senior Corina Carter assisted senior Kyra White and sophomore Kierra Sanderlin, followed with two fastbreak layups, to put the Rockets up 6-0. Steele fired back with two back-to-back layups. Sanderlin made a fast layup, but Steele put three back on the board to make the score 10-7. Junior Teanna Huggins got a block and steal, but couldn't stop Steele as they got a quick layup and an and-one call to recapture the lead at 10-12. Carter made a contested three to gain the lead back and Sanderlin followed up with another layup to end the quarter at 17-13.
Early in the second quarter, Carter sunk another three, which set up multiple Rocket buckets to put them up, 27-13. Steele answered, making back-to-back layups. But they could not contain Sanderlin, fouling her and giving the guard free throw opportunities. Sanderlin made another layup after and Steele generated offense themselves, making the score 32-19. Steele then scored a mid-range shot and White shot a three-pointer from the corner ending the quarter, 35-21.
Steele got a fast three to start the third quarter and followed with a layup to get back in the game. The Knights hit multiple shots from midrange and scored in the paint, but Carter answered back with a three, making the score 41-34. With Steele's defense covering all over, Huggins took it to the lane and floated it up for a quick two to end the quarter at 45-34.
As the fourth quarter started, Carter took it to the paint and scored with a layup, but Steele answered with one of their own. Senior Tiffany McGarity shot from the three, but Steele got the and-one call and converted, making it a nine-point game at 50-41. Carter then took action, making three consecutive contested layups in the paint, furthering the lead 56-44. With two more inside scores, Judson took the win with a score of 60-47.
The Lady Rockets (27-4) will take on San Marcos (20-13) on Thursday at San Marcos.