Rap Duo Audition For American's Got Talent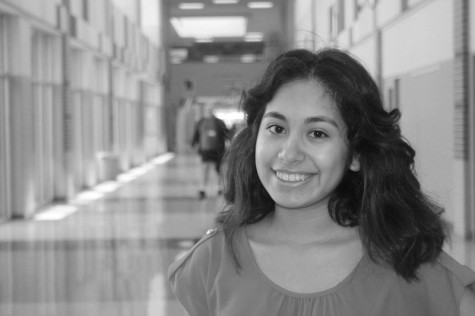 More stories from Aneli Munoz
Rapping is a method of expression that inspires young minds to learn the skill of rapping, and the value of music. The NBC television show America's Got Talent gives people a chance to share their talent with the world, a reality television series featuring singers, dancers, rappers, comedians and other performers of all ages competing for one million dollars.
The rapping duo Ashley Montgomery and David Shawver recently auditioned for the television show at the Henry B. Gonzales Convention Center on January 12, 2014. The duo performed in front of producers, who will pick talents to then perform in front of the judges and live audiences.
"As we waited to perform, we grew more nervous," Shawver said. "But we got through it."
AGT is the only talent competition show open to any age and any talent.
"First, [we had] to find [the audition venue]," Montgomery said. "Then, [we went] through security. From there, [participants] go to the registration booth. They want you to have a legal photo-ID and your birth certificate. Lastly, they sent us to a waiting room so we could be seen."
These auditions are an once-in-a-lifetime opportunity for millions of people to flaunt their talent. When pursuing one's dreams, you have to remain inspired, determined, and patient; dreams are only dreams until you change that.
"We both love to rap," Montgomery said. "This could be our one in a million chance; we could get picked."
The duo was given the chance to showcase their talent and show what there made up of in front of producers. Once the producers pick their choices, talent will be able to perform in front of the actual judges. With their skill and passion, the duo thinks they will be able to make it.
"Rapping is my passion, it gives me an opportunity to get my thoughts together and make something people can relate to," Shawver said. "All we had was 90 seconds [to show that]."
An adrenaline rush brings a racing heart and the excitement of performing fills your every moment in the hours leading up to the performance.
"We got hyped. We ran outside screaming and yelling," Montgomery said.
Music often plays an important role in our lives, no matter whether our tastes are classical, country, jazz, rap, rock, or rhythm 'n blues. The duo can capture the attention of a wider audience, despite their musical taste. Music may merely be in the background when we drive or study, music provides a refuge from our problems, be an integral part of our lives, memories, and culture. Music both expresses and arouses emotions in a way words alone cannot.
Now, it's a waiting game – the duo has to wait to hear back from producers of the show.