Tennis falls to East Central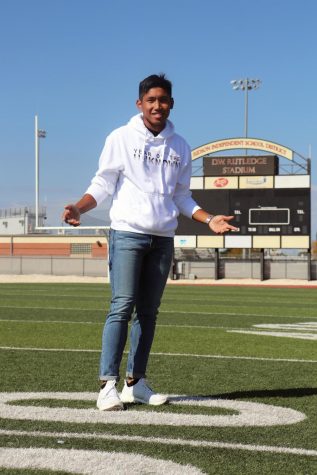 More stories from Brix Baylon
On Friday, Sept 18, the Judson High School tennis team faced off against East Central High School at Judson's home court.
The Rockets started the day off with senior Dylan Juarez and junior Maximilion Reyes winning their first doubles match. Coming off of their match against Clemens, the duo improved on their strengths as they did better on their forehand and serving game. The communication on the court was a lot better and overall, they were mentally ready to get their first victory. 
Juniors Angelique Johnson and Victoria Villaflor once again put up a good fight in their doubles match. The Rockets lost the first set but Johnson and Villaflor went toe to toe against the Hornets in the second set. Their quick reflexes kept them in the game and made their opponent work for their victory as the Hornets won 2-0.
In the singles matches, the Rockets earned a couple of victories and some Rockets even got their first win of the season. 
Seniors Seth Colunga and Brix Baylon teamed up for the first time for the next doubles match. The Rockets struggled, in the beginning, to start the match off, they lost the first set 1-6. After the two got comfortable, they were able to study their opponents. They were able to catch a little momentum after they won a couple of games. However, it was too late as the Hornets got away with a 2-0 victory.
Coming off of his doubles match with senior Brix Baylon, Colunga got off to a rocky start in his singles match as he lost the first set by only winning one game. As he tried to get the hang of playing a full tennis match, Colunga finally got comfortable and won the second set. By forcing a tiebreaker, Colunga was able to use his strong forehand game to finish off the match. He went on to win the tiebreaker 10-4.
Junior Jasmine Vaughan also won her first singles match as the entire time, Vaughan controlled the ball and played at her own pace. She played the match one point at a time, took it slow, and let the game come to her. She capped off her victory by winning a 10 point tiebreaker.
Despite losing most of the matches, the Rockets made the Hornets work for their victories. A lot of tiebreakers took place throughout the day. 
The day concluded with the Hornets winning 10-4 over the Rockets. Despite losing, the Rockets put up a good fight as they slowly improve. By earning a couple of victories, they are one step closer to winning their first match of the season. The Rockets prepare for their next match as they travel and play New Braunfels on Tuesday, Sept. 22.
—–
If there are issues with this article, report it here.