Tennis falls to Steele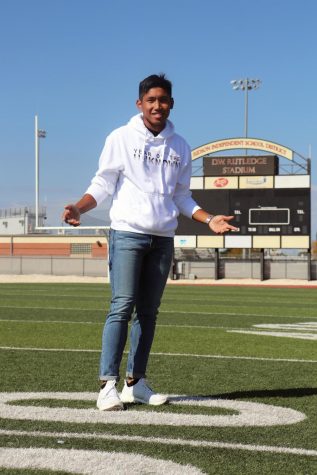 More stories from Brix Baylon
On Tuesday, Oct. 6, the Judson High School Tennis team hosted their last district home game against Byron P. Steele High School.
The day started with seniors Dylan Juarez and Brix Baylon teaming up for a doubles match. The Rockets struggled to find a rhythm as they fell 0-3 to the Knights early on in the first set. As the match progressed, Juarez and Baylon were able to find momentum as Baylon put in most of his first serves after he got in the groove of serving. Juarez's baseline game was great as he was able to return the Knights' attacks and stopped them from gaining more momentum.
The chemistry between the two seniors was tremendous as they came back and won a very tough first set 7-5. The Knights were able to answer back and win the second set 6-1. The match ended up going to a super tiebreaker. The Rockets were down early 1-4. Even though they tried to get some momentum going, the Knights always had an answer as the Rockets ended up losing the match 5-10.
"Our opponent just took it from us," Juarez said. "We tried our hardest, tried our best out there and they overcame us. It happens. It was a good match, it was a good learning experience."
Juarez and Baylon still had a lot of room for improvement as it was only their second time teaming up.
"We just work on our doubles, our switching, our serve, our volleying, and our teamwork," Juarez said. "If we improve our teamwork and get better calls, I think we'll get them next time".
Juniors Maximiliano Reyes and Imani Harris teamed up for mixed doubles. This is only Harris' second time playing this season as she suffered an ankle injury over the summer. The Rockets started off the match pretty rough as both of their service games weren't on point, causing them to lose the first set. As the match went on, they were able to figure out what to do and tried to start a comeback. Reyes and Harris were able to fix their service games, rally against their opponents, and move around the court pretty well. They were able to force a super tiebreaker leading the Rockets to eventually winning the match 10-7.
Junior Victoria Villaflor competed in a singles match. Villaflor started the first set strong as she took the lead 4-2, although her opponent was able to come back and finish strong causing her to lose 4-6. Villaflor was able to answer back in the second set forcing a super tiebreaker. The two went back and forth as Villaflor and her opponent were rallying against each other all game. After playing for several minutes, Villaflor started to feel an immense pain around her chest during the tiebreaker. She was strong enough to finish the match and still make it tough for her opponent as she rallies back and forth with her in a close match. The match ended with Villaflor losing the tiebreaker 10-12.
The Rockets didn't make it easy for the Knights. Line judges were even requested during some of the top-seeded matches. Most of the matches were really close as a lot of super tiebreakers took place during the day. 
The matches ended with Judson losing to Steele 10-1. The Rockets finish off their season on Tuesday, Oct. 13 as they travel to play the Smithson Valley Rangers.
—-
If there are issues with this article, report it here.