World-renowned musician Michael Ward speaks to fine arts students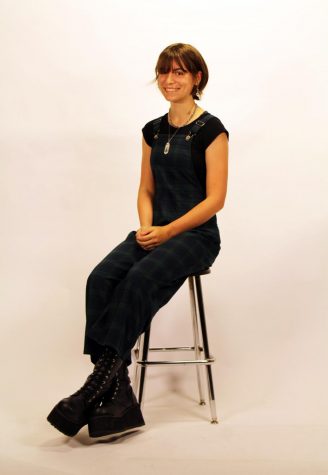 More stories from Emily Stein
On April 24, 2019, jazz musician Michael Ward held a music workshop about African-American music for some of Judson's fine arts students. Ward has traveled the world as a musician and is featured on the first jazz record to ever win a Pulitzer Prize.
Ward discussed the origins of different genres of music created by African Americans in history, starting with the history of the fiddle on plantations, and gave a demonstration of what that music would've sounded like.
"Let me ask you this, when you got on the plantation and [there's] a slave master, do you know what he did? He came to you and gave you a violin," Ward said. "At the beginning of slavery, they had no clue how to play the fiddle. They had to teach themselves how to play and it might've taken them a year to learn one song."
He then asked the crowd for genres of music created by African Americans. His question got a lot of participation and students suggested jazz, blues, and rap. Ward went on to explain the creation and significance of the blues.
"We had sad culture back then when [the blues] was created. They wrote about it just like in hip-hop and rap how you write about the stuff that's going on in the streets, that's what the blues is about," Ward said.
Ward's musical career began in middle school growing up in San Antonio and attending what is now Martin Luther King Jr. Middle School. He played in the San Antonio Youth Orchestra and was the youngest member of the Trinity University Community Orchestra at the time. He gave the students an inspiring message about where their musical talent could potentially take them.
"Throughout my career, I have played with a whole lot of people I can't even name. Because I took it seriously, I started traveling and I've been to 42 countries all around the world and I have been all over the United States," Ward said. "Because of this violin, I've seen the world. If it wasn't for this violin, I wouldn't have seen the places I've seen and met the people I've met. I've seen the Roman Colosseum, the Taj Mahal, the Great Wall. I've seen a lot of things because of this violin."
His speech and performance left an inspiring effect on the students and the message of the origins of African American music was well received.
"The performance really opened my eyes to the fact that music has many more origins than I thought," freshman Jayci Bonnette said. "There's so much involved with the development of music."
Ward left a message to the students in the words of The Crusaders to "keep on, keep that same old feeling" in their music.
Ward will be headlining the San Antonio Blues Festival on April 26, 2019.