Wrestling head coach Mr. Paul Guenther sees a great season ahead despite COVID-19 restrictions on the sport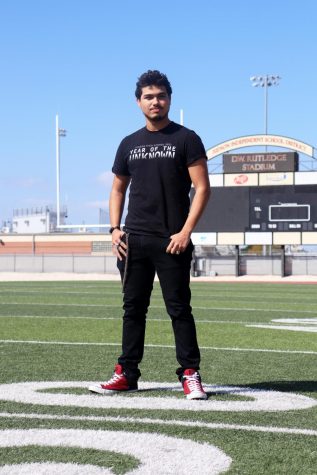 More stories from Juan Rodriguez Maldonado
On September 28, as several student-athletes returned to face-to-face instructions, coaches have been preparing for their return to practices for their upcoming seasons.
The pandemic has made it very difficult to continue sports in the way we knew it, but the coaches have been overcoming the obstacles, finding ways to continue practicing while making sure students stay safe and take precautions.
The wrestling team began practice on Monday, September 28, the same day students returned to school. Wrestlers and head coach Paul Guenther will be challenged physically and mentally to ensure everyone stays safe.
"This year has been the most discouraging season in my career," Guenther said.
He was informed by the University Interscholastic League (UIL) that the wrestling season may be pushed back to February due to COVID-19. However, it may benefit the wrestlers because this can give more time to improve and prepare for the season.
Guenther still expects great things to happen this year and plans on working hard with his wrestlers and seeing them improve drastically.
"We certainly follow all the UIL rules and are doing stuff beyond the UIL, taking extra precautions. I've spent a lot of time talking with the other coaches – [we are] taking every precaution possible," Guenther said.
Regardless of all these rules, Guenther still wants to continue making the practice fun, hard, and comfortable for his student-athletes
"We all make sure to remind each other to wear masks, wash hands, stay six to ten feet apart, and sanitize all equipment before, during, and after we use it. [It's] not really conducive to wrestling – we should be on the mats locking horns, it's what we all want to do. But until we are completely safe, we will not be doing so," Guenther said. We love our athletes dearly and we wanna protect them. The last thing any of us want is any of our students or athletes to get sick."
In spite of the challenges COVID-19 has caused, Guenther predicts the season to be one of the best.
"This year's wrestling team will be even better than last year. It's gonna be a very tough team, we have a few regional qualifiers and a state qualifier from last year, and we have a couple of new wrestlers that I can already see will be stepping it up this year. I believe this year, we will have much more state qualifiers than last year with only three. Overall, the boys and girls in this wrestling team are gonna accomplish a lot this year," Guenther said.
—-
If there are issues with this article, report it here.