Girls basketball advances in the playoffs with win against Johnson
More stories from Isabella Sandoval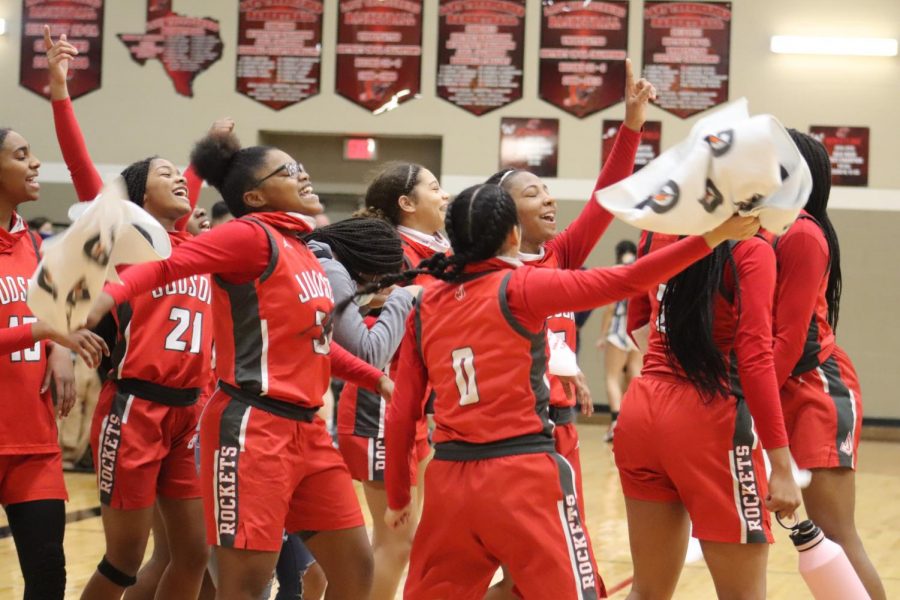 On Thursday, February 11, 2021, the Lady Rockets (13-1) faced the Johnson Jaguars (6-4) for their first playoff game of the season. 
To start the first quarter, the Rockets and Jaguars passed the ball back and forth until Judson finally made the first basket of the night by senior Kierra Sanderlin. As the game progressed, Judson quickly managed to keep hold of the ball, allowing the Rockets to take the lead 2-8. The Rockets scored back-to-back while still being able to keep their defense tight and only allowing the Jaguars to score four points throughout the whole first quarter. The Rockets lead 4-18.
The second quarter began with an intense battle between both teams until the Jaguars made their first basket of the second quarter. After a few minutes of back and forth scoring, Judson made a few mistakes, which caused them to foul helping the Jaguars gain points, as well as possession. Despite these mental hiccups, Judson was able to still keep their lead with the help of many baskets made by junior Amira Mabry. With only three minutes left in the second quarter, Johnson managed to push through the Rocket's strong defense allowing them to bring up their score to 16-22 Rockets. However, the Rockets came back stronger. Sanderlin ended the second with a half-court buzzer-beater, leaving the Rockets still in the lead 22-31. 
To start the third quarter, both teams made a few baskets allowing both of them to put points on the board. Sanderlin made two baskets back-to-back followed by another basket by Mabry, helping the Rockets keep their advantage, 29-37. After trading the ball back and forth down the court, both teams continued to score. Despite the Jaguar's efforts, the Rockets still found themselves in the lead with only three mins left in the third. The last three minutes of the game were a very intense battle between both teams. However, Judson kept the pressure up and scored more points while still holding their defense tight, keeping the Rockets still in the lead 35- 48.
The fourth quarter started off very intensely with two baskets by Sanderlin followed by a third basket from junior Michaela Berrett. Judson held both their defense and offense tight allowing the Rockets to score 11 more points without the Jaguars getting a chance to score. Both teams held their heads high and played with their hearts on the court. However, the Rockets played harder, allowing Judson to win the game with the last basket by sophomore Zaadiyah Stovall ending the game 71-43, Rockets.
Details on the next game will be coming soon.
—-
If there are issues with this article, report it here.