Meet Gaia
After finally getting the necessary paperwork, junior Gaia Pescosolido is finally fulfilling a dream – to play varsity sports on an American high school volleyball team.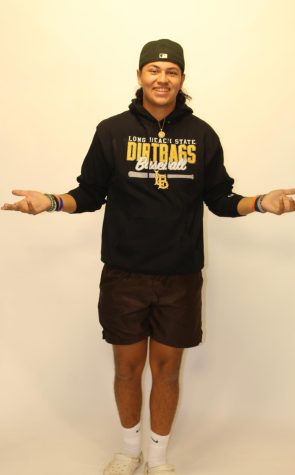 More stories from Logan Dominguez
Back in 1895, in Holyoke, Massachusetts, William Morgan invented volleyball, a sport that has become an international phenomenon and has seen an increase in popularity in the past two decades.
Junior Gaia Pescosolido, who is studying at Judson from Italy, is making waves on campus as part of the volleyball team. 
"Here you have freshmen, JV, and varsity, and if you play varsity here, people make a big deal out of it," Pescosolido said. "In Italy, it all depends on your age, but if you're a stronger player, they might be able to move you up. They don't have school volleyball in Italy so we have to play outside of school." 
Adjusting to a new school from a different country could be very difficult. Being on the volleyball team could bring a lot of popularity or a lot of unwanted attention. But with the status of being a foreign exchange student, her teammates have welcomed her with open arms, especially with the fact that she is a new student in a new environment, pushing her out of her comfort zone.  
"I have a team in Italy, but it's very different. Here, I feel like I am a part of a family. In Italy, if you aren't cool or a strong player, then you don't normally fit in," Pescosolido said. "Here, they ask you questions and want to talk to you. It's so beautiful."
The school prides itself on having award-winning athletic programs. With Gaia playing on the volleyball team, it shows that the coaches think she has some real talent and welcome her to the same opportunities as the rest of the girls at our school. 
"For sports, I choose here because the environment here is a lot better. I feel comfortable talking to coaches and players and it's a lot more fun than being in Italy," Pescosolido said. "I do, however, miss my teenage life back in Italy because it's a lot easier to get transportation to places we want to go. Here, if you don't have a car, it's hard to get from place to place." 
The caring, friendly, and helpful environment shows that anyone who comes to our school will be welcomed and assisted in anything they choose to put their mind to. With Gaia receiving eligibility, she is now able to fully fulfill her dreams of being part of an American varsity high school volleyball team.  
Being at a new school, new environment, and new opportunities and challenges sometimes brings complications. However, Pescosolido takes on these challenges and complications head-on. Through her ineligibility and all the hard work she puts in, she has been able to overcome every challenge thrown her way.
—
If there are issues with this article, report it here.