Mothers Kicked Out of Boy Scouts of America
Hang on for a minute...we're trying to find some more stories you might like.
More stories from Emilee Rodriguez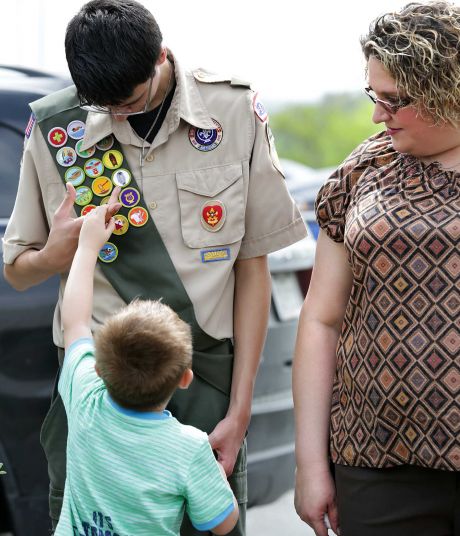 With more than 110 million Americas involved, The Boy Scouts of America (BSA) is currently one of the largest private youth organizations in America. Each and every year, the BSA's main goal is to train youth in citizenship, character development, and in self-reliance. However, due to much controversy, the numbers of children and adult volunteers in BSA have seemed to be decreasing.
In 2005, the BSA adopted a new "Youth Leadership" policy that stated that in an event that youth leaders were to hold themselves to be "open and avowed homosexuals," they were to have their memberships revoked. However, because of the backlash, youths were welcomed back to the BSA despite their sexual orientation, effective May 23, 2013.
The BSA has many policies to which prohibit atheists, agnostics and homosexuals, all in which are protected in state and federal court. Although many of their policies have been challenged, the Supreme Court of the United States has affirmed that as a private organization, the BSA can do what they please with their membership standards. Despite many court cases, The Boy Scouts of America are protected by The Freedom of Association Law.
However, one woman from Converse, Texas vows to put an end to this ongoing problem.
Adela Freeman was like any typical mother. For 8 years, she supported her son who worked intensely hard for the Boy Scouts, even reaching an Eagle Scout, the highest rank you could achieve. She even volunteered alongside him as a youth leader. Her son is also a member of the Judson band. However, they would have never expected the outcome to all of their hard work.
Freeman's membership was revoked after the BSA discovered she is an open homosexual. Driven by anger and the hurt, she started a petition.
"I started the petition as a way to vent my anger and hoped that I would get some positive feedback from my immediate friends and family," Freeman said. "I wanted my friends to know what our family was dealing with and what many people deal with on a daily basis."
Her biggest fear was how her son would handle the news.
"He was angry too," Freeman said. "I actually have never seen him angry, and was very surprised by his immediate reaction to stand by our family and his disgust with the Boy Scout policy."
Although Freeman was angered towards the situation, she advised him that it was up to him if he wanted to leave or stay. He decided to leave.
"We couldn't be more proud of him for making that decision," Freeman said. "We had left the decision up to him whether he would stay involved or not and told him we would support him 100% in his decision."
With nothing left to say or do, Freeman decided she wasn't just going to sit there and continue to feel bad. Alongside the petition, she set out to reach others.
"I am starting Scouts for Equality chapter here in San Antonio in hopes to end the discrimination in the Boy Scouts and getting community organizations to support us in the fight," Freeman said. "I have received more positive feedback than negative, and that shows me that we are headed in the right direction."
She hopes to reach out to the LGBT community in hopes for change and support.
"I wanted to get our story out because I felt like I could be a voice for some others who did not feel comfortable enough to speak out," Freeman said. "I like to think that I can make a difference in a life, even if it's only one."