Review: Flatliners
Hang on for a minute...we're trying to find some more stories you might like.
More stories from Sierra Koberstein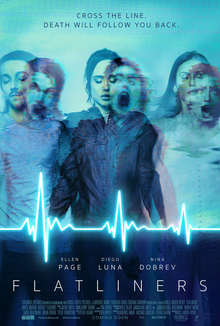 On September 29, 2017, the long anticipated remake of the 1990 film Flatliners was released into theaters, bringing in $2 million on opening day. This movie was brought from the dead with style, using fear, sex appeal, comedy, plot, and logic that gave you an uneasy feeling that made you want to stop watching and not want to go home alone.
The movie begins with a warm scene of an older and younger sister driving together, when the older sister takes her eyes off the road to look down at her phone. The younger sister screams as cars are stopped in front of them and her sister slams on the brakes, which sends them off the side of the road and into a creek.
Soon, it shows the same older sister Courtney, played by Ellen Page, as a medical student interning at a hospital with four other colleagues: Marlo, played by Nina Dobrev; Ray, played by Diego Luna; Jamie, played by James Norton; and Sophia, played by Kiersey Clemons. The five are all working as a group in the hospital.
Courtney, who has become fascinated by the paranormal and the thought of an afterlife, asks her colleagues to help her with an experiment. When they meet up, they soon find out that Courtney wants them to kill her and then bring her back to life, record the brain activity in promises to discover something new and become well known doctors in the medical world.
They do the experiment and soon realize it has after effects when Courtney has a ton of energy and can remember everything. The other students, wanting the educational advantage, also jump in but they soon discover that flatlining has bad side effects as well when the things they feel guilty for start coming back to haunt them and get revenge.
After things get out of hand, they realized to get rid of the bad side effects, they must come to terms with what they have done in the past and forgive themselves, all along the way, they make new discoveries about themselves and their colleagues.
In the end, you can see the colleagues toasting to their victory, looking clearly more relaxed and enjoying each other's company as they make a toast to Courtney.
This movie was a great look into how competitive the medical world can be with some literally giving their life to get ahead and how they can make mistakes along the way that will haunt them for the rest of their lives. It is the perfect amount of mystery and edginess to keep you on your toes throughout the movie from beginning to end