Senior John Pron dedicates time to develop young baseball players
More stories from Aaliyah Johnson
Senior John Pron is a varsity baseball player who plays second baseman, third baseman, and shortstop.
Recently, to help younger players improve on their skill, Pron was honored to join Texas Mustangs baseball club as a mentor by former Judson assistant baseball coach Ray Casarez.
"I joined Texas Mustangs in my freshmen year and when [Coach Casarez] left, I went to go play for him for a couple of summers," Pron said.
As an assistant volunteer, his job is to go over certain essential skills with the kids and make sure they are staying on task.
"My role on staff is to help the guys hit," Pron said. "I get the field workers, help them out with hitting drills, soft tosses, then I make sure their footwork is good."
He usually works with younger kids.
"I can [help] kids from four years old to 12 years old," Pron said. "From there, they probably really don't need to be told what to do," Pron said.
In playing a sport, there is competition, perseverance and sportsmanship. However, the most significant aspect of playing sports does not need to be instructed. It kind of just falls into place.
"The most important part is to make sure the kids are having fun," Pron said. "Whenever their struggling, [it's key] not to give up."
Dealing with school and sports can sometimes be a struggle. For Pron, just in knowing that the kids are having fun always makes it worthwhile, which helps to prioritize both school work and sports.
"Sometimes, it's difficult to [balance school and sports], but it's always worth it when you see the kids out there having fun," Pron said.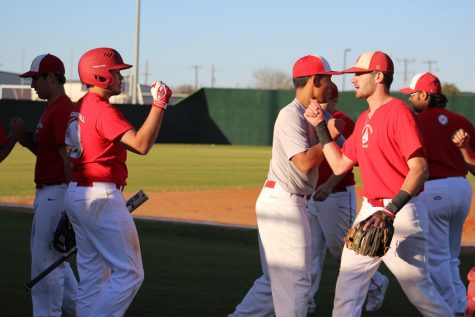 With a determined and ambitious mindset, Pron is committed to going to college and playing baseball.
"I will be going to Northeast Texas Junior College in Mount Pleasant," Pron said.
Besides enjoying baseball, Pron also enjoys other outdoor activities with his dad at his side.
"On the weekend, me and my dad play golf or hunt and fish," Pron said.
With hard work and commitment, Pron is making an ambitious effort to achieve his goals. In being very passionate and loving what he does, hopefully it will inspire others to give back and do the same.