Senior Kayden Coopland finds life through dance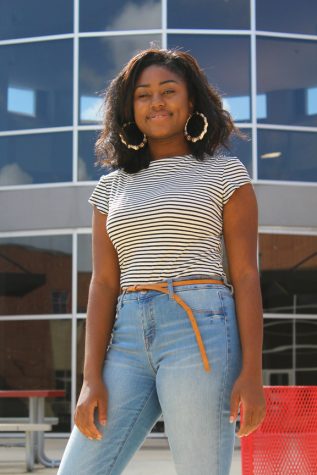 More stories from Amber Terry
Everyone saw DJ Curfew doing what he does best at Food Fest. The crowd was gathering in the cafeteria, just having a good time. And then the infamous circle began, with students dancing their hearts out.
Senior Kayden Coopland stepped in and did what he knows best… danced. And he, like always, killed it.
For him, dance is something he just came up on. He knew he was good, but didn't know how to involve it into his school life.
"I thought it was cool," Coopland said. "I thought I could do it, so I did it."
Much of his inspiration comes from his dad, social studies teacher Mr. Albert Whitbey, who used to be a part of his college step team.
"He's the one who taught me how to do a lot of my dances," Coopland said. "I just look up to him. He helped me to be the person I am today."
Finding his new style of dance pushed him to create videos and put them on social media, making a name for himself not only on campus, but also online. His energetic vibes has given him the name "The Hype Man"
"It feels cool [that] I get noticed just by dancing," Coopland said.
Eventually, he got really good at it and he now post videos of himself creating his own unique moves to hype songs.  
"I saw a lot of videos on Instagram and so I started doing it and got really good at it," Coopland said.
Coopland is an active member of the school's step team, sponsored by Whitbey, who are actively looking for new members to restart their group.
Although dance has been a major part of his high school life, after high school, he plans on going to Prairie View A&M University to major in architecture.