Sophomore Cameron Jennings triumphs through incredible hardship
Jennings is the first disabled student at Judson to be on the Satellite pep squad.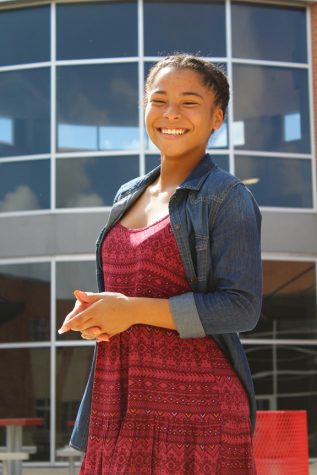 More stories from Kieva Ussery
We've all seen the girl in the wheelchair on the field at every game, sporting a white pep squad uniform, rooting hard for her school. The crowd stares in awe as she's wheeled onto the field. Many know her name, but few know her story. No one may ever understand her perseverance.
This is Cameron Jennings' first year on the Satellite pep squad. She is the first disabled student at Judson to be on the team and she is leaving a mark on all students like and unlike her.
"Cameron doesn't believe she's disabled," her mother Cassandra Jennings said. "Every time we took her to a game, she always wanted to cheer.
Cameron has cerebral palsy, which affects her body movement and muscle coordination. Yet, that hasn't stopped her. She's a student who is always happy and looking forward to the games as well as her days in class.
"She's always happy and looks forward to every game," Mrs. Jennings said. "She always talks about the football games and is always very excited when game days come."
Cameron hopes to leave her carbon footprint on students like her who don't believe that they can do things like normal students. Just because a person is limited by disabilities or mind blocks doesn't mean you shouldn't reach for the dream.
"I feel like more students who don't dance, they'll be inspired by me," Jennings said.
Jennings has defeated all odds both at school and at home.
"Doctors told us she wasn't supposed to survive, that she would be a vegetable. If she did live, she wouldn't have very long," Mrs. Jennings said. "But she has defied all odds."
Now, she is being wheeled onto the field under those bright Friday night lights with a feeling words cannot describe, just like the rest of her teammates.
Cameron is truly a blessing within itself. She is always happy and ready to be with the girls. There is always room for an optimistic mind and an open heart in the world of dance.
Although Cameron will always be faced with challenges in her life, she still smiles brightly. People know about her, but no one can understand her troubles. She fights strong and dance is something that makes her feel like she fits in, like she can do things just like everyone else.