Students Create A Measure of Delirium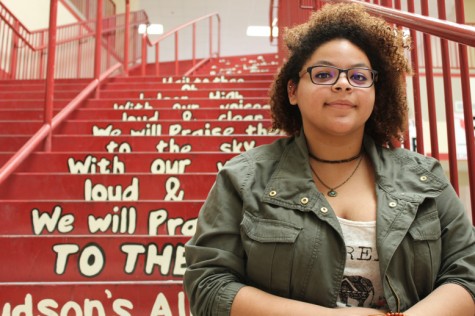 More stories from Denesha Dean
The members of A Measure of Delirium have had a rocky start. So far, they have gone through two drummers, added a female vocalist, and shifted original positions within the band, trying to find where they fit in.
But they have finally worked things out, and have produced a final lineup with: Gilberto (Dex) Almanza, playing rhythm guitar and the keyboard, Maddie Croteau, female vocalist, James Roteman, playing drums, Robbie Roteman, playing the guitar, and Ivan Springer, playing the bass.
The purpose of the band is simple: they have something to say and want to be heard, something all teens can relate to. That led to the band's name.
"A Measure of Delirium translates to a measure of madness, as in I go mad wondering if anything I say means anything or if it's just hot air," Robbie Roteman said.
A Measure of Delirium is fairly new, with most of the members being freshmen. With the exception of James and Robbie who are brothers, the other members of the band meet this year. But in the short span of knowing each other, they have become like a small family.
"All of us combined [feel like] one giant spirit animal," James Roteman said.
Being together as a band is something the members find enjoyable.
"[We love] doing what [we] love, with the people you love," Croteau said.
Musicians always inspire other musicians, and it is no different for A Measure of Delirium. Some of their inspirations include: Shawn Span the frontman from "I, The Breather," Billie Joe Armstrong, frontman of "Green Day;" Chris Fronzak, frontman of "Attila;" Rick Allen, drummer of "Def Leppard;" and Mitch Lucker, the late musician from "Suicide Silence." Their sources of inspiration are based on the different types of music they listen to.
The band doesn't see their opposing views on music as a bad thing. They see it as a way to incorporate their own style into the band, as well as a way to reach a wider audience.
But one thing the band can agree on is that music should be a reflection of something deeper than what is on the outside.
"Music is more than just noise," says Roteman. "It shouldn't just be about drugs, sex, and violence. It should be about life and the emotions that come with it."
This is what the band wants as a whole. It doesn't matter what music they're playing, as long as they're able to put a part of themselves into it.
When they aren't practicing on Sundays, the members of the band participate in other things. James Roteman takes part in the school's honor guard, Springer works at Whataburger, Almanza works in his family business as a photographer, Croteau enjoys writing lyrics to potential songs, and Robbie Roteman enjoys working on his guitar skills and quantum physics.
The band has mixed feelings as to what they want for their future. They all agree that becoming famous wouldn't be the worst thing that could happen, but some members want it more than others.
Springer hopes to one day become better than his favorite band, "I, The Breather", while the argument was made that becoming famous and always having to work on music would become tiring.
As for now, the band performs covers of songs, but is inching their way to working on their own music. They are currently working on a cover of "Iris" by the Goo Goo Dolls to post on YouTube and hope to one day perform in front of a crowd.
You can check out their latest updates on Instagram at @amod_offical, and on Facebook and YouTube under A Measure of Delirium.