The Rocket Crew
The Spirit of Judson Football Games
More stories from Emilee Rodriguez
Every Friday night, people see these guys running on the field, carrying our giant spirit flags, but no one really knows who they are. For nearly three years now, Judson's JROTC has taken on the responsibility of showing school spirit and providing support for our beloved football players. Let us introduce you to the Rocket Crew: junior Brandon Bowlin, junior Natalie Boyel, senior Corey Cecil, senior Christian De'mado, senior Daniel Dominguez, senior Austin Friend, sophomore Dominique Simpson, junior Michael Wilson, and junior Trevon Whitfield.
We were lucky enough to follow the Rocket Crew at the September 5th football game against Brandeis. We experienced what it's truly like to be a part of the crew. We were amazed to see what they do and exactly how they do it. "I feel like it is a life changing experience that I look forward to every Friday," junior Trevon Whitfield said.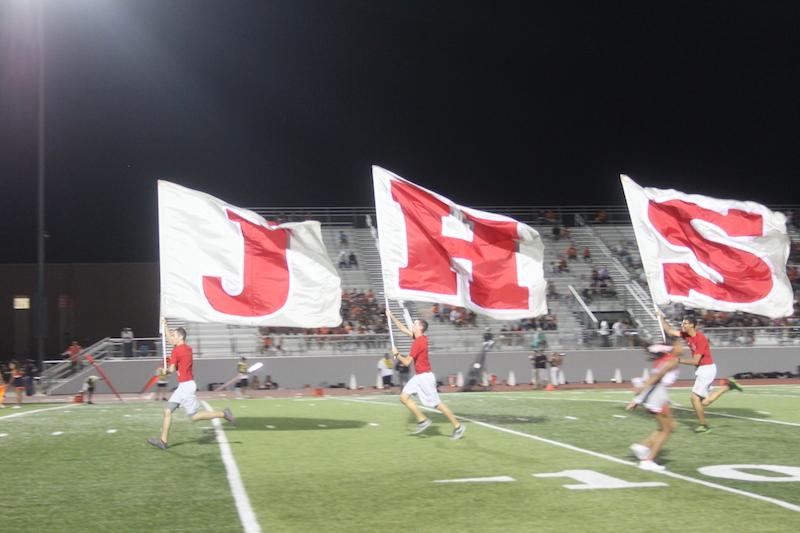 As the football players warm up for their big game, the group sets up the Metallic Rocket, which can be seen at every game. Following that, the group heads over to the other side of the bleachers and hangs up a long red banner displaying the Judson name, for the opposing side to see.
As the game begins, they determine who will run with the flags and who will do their famous wave pushups. The four flags are laid out across one side of track and ready to be picked up whenever a touchdown is scored. After each touch down, four runners carrying flags will sprint back and forth up the track, while the rest of the team proceed to do pushups.
The pushups are done in a wave and according to how many points the team has scored. Imagine a crowd of fans doing the wave. It's the same concept, but in push up form. Running and pushups isn't their only job. "I feel like I am a part of something bigger than myself, as we all continue this tradition," senior Daniel Dominguez said.
They also add a dramatic effect to the banner breaking as the cheerleaders hold up the banner for the football players to run through. Two people from the crew use fire extinguishers and release the contents to give a "taking off effect". The rest of the night is composed of cheering on the team and preparing for every touch down.
"We become a family," junior Natalie Boyle said. "Most of all, we love football and the players."