Art department host first Painting Without A Twist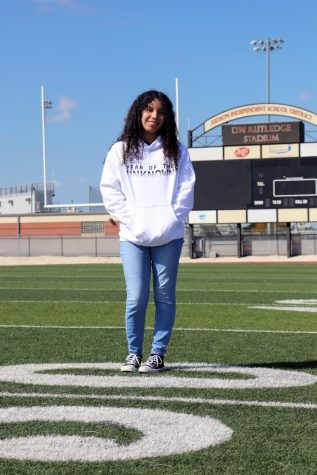 More stories from Jennifer Castillo
On Thursday, November 7, the Judson Art Department hosted its first "Painting Without a Twist" event for faculty and staff after school in C125, art teacher Mrs. Margaret Trost's classroom.
Trost, along with art teacher Mrs. Cathryn Davis, offered a fall theme and set up their two canvases so that an individual could come into the room, look at the finished paintings, and paint their own version of the paintings presented. Together, Davis and Trost helped with assisting and teaching those who came in on how to paint.
The idea for this event came about after wishing for more time for faculty and staff to spend time together that did not involve grades, discipline, or other teacher duties – but simply to relax and have fun.
"We wanted to inspire more camaraderie amongst the faculty and staff because we don't get the chance to get to know other teachers in other departments because Judson is so big and we're so department-oriented," Trost said.
Algebra teacher Mrs. Aubrie Ryherd was thrilled to be painting while supporting the school at the same time.
"I love to paint, and [this] supports the arts here at Judson High School, so it's a win-win situation," Ryherd said.
Counselor Hitomi Wilson found self-care to be important, as being a counselor can come with lots of stress.
"It's very important, as counselors, that we always remind ourselves to take care of ourselves. So when I saw this I thought, 'What a wonderful way to take care of myself, do something fun, [and] work with the staff on a level that's relaxing,'" Wilson said.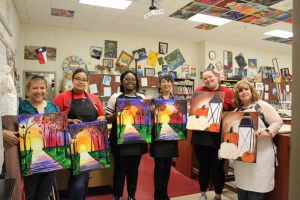 Painting can also be therapeutic, especially after a long and busy day of teaching.
"It's a fun way to do something after school. I never get the chance to do this during the school year because I'm so busy, so I like that it came to us," Ms. Jennifer Lozano-Dozier said, who teaches US History, African American Studies, and Women's Studies.
For English teacher Ms. Breanna Andrews, getting the chance to do something creative as a way to relax and focus on herself was something she was glad to do.
"I wanted to come here because I don't really get a lot of time to just relax and focus on me, so it was nice to have an opportunity to just sit and hang out with my coworkers and create something beautiful," Andrews said.
Davis and Trost plan to do another "Painting Without a Twist" event in the spring, and perhaps eventually opening it up for students as well.