For agriculture mechanics students, they find refuge in the E-wing shop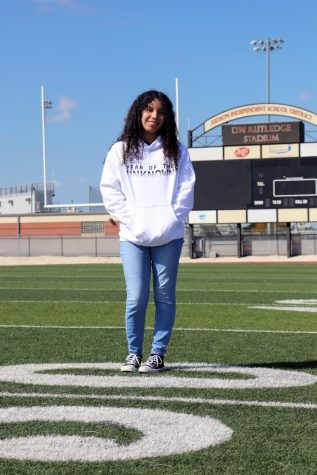 More stories from Jennifer Castillo
Outside the campus, at the back of the E-wing, there are students who work diligently on projects that require their utmost attention as they build and weld. For many classes, COVID-19 has restricted the potential that can be reached for certain assignments compared to before. But for the agriculture practicum mechanics and agriculture design students, their awards prove that wrong.
"I come back to school for that one reason – ag," sophomore Espen Cruz said. "It peaks up interest and gives me something to do every day, rather than being at home playing video games. It's the only opportunity we have to make memories."
Taught by agriculture science teacher Mr. Jay Trees, he and his students have worked hard and gotten things organized to be able to accomplish the feats that they have.
"We've come in here and totally restructured our shop to give us more space to be able to work," Trees said. "We designed and built a bunch of projects for the Judson Agriculture Exposition. Not only do [the students] have their certification, but they've built their project, took their project to show, and the results were all blue ribbons at the shows and top awards."
Trees can always be seen with the same group of students, and those are the students who have been coming to campus every day to put in their best work and effort for the class.
"They've been the students that [have been coming] to school since the first of October when students were allowed back. And they've been here every day since that point. They bring their welding certification, the projects, they've been on top of everything, been able to travel and go to some shows and do all that kind of stuff," Trees said.
Eventually, their hard work paid off. Students had the opportunity to attend the Judson Agriculture Exposition, the Agricultural Mechanics Project Shows, and both the San Antonio and Houston Livestock Show and Rodeo, where they got to compete and showcase their projects.
"We had our Judson Agriculture Exposition where they competed against each other for probably about two or three thousand dollars worth of tools and prizes. Once we finished there, we cleaned up what we did there and got ready to take them to the San Antonio and the Houston Livestock shows. In San Antonio, we placed three of the projects in the top six. In Houston, we were top with all the projects. So all six of those projects were the tops where we went," Trees said.
The accomplishments that they have earned have allowed them to be in a position where they can set a good example for new students who want to get involved in agriculture science.
"It's hands-on," junior Austin Wolfe said. It's not the virtual stuff on the computer. This is for my future (welding). This is just better for me."
—-
If there are issues with this article, report it here.