Review: Katy Perry's "Smile"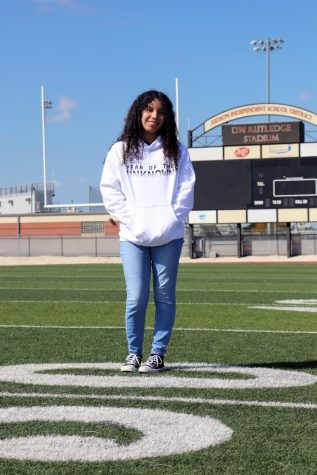 More stories from Jennifer Castillo
On August 28, 2020, singer Katy Perry's sixth studio album "Smile" was released, only two days after the birth of her first daughter, Daisy Dove Bloom. It was also released four days after the tenth anniversary of her third album "Teenage Dream", a successful piece of work that broke records and made history in the charts of Billboard Hot 100.
Much has changed for the artist since then, as she is now a mother and a fiance. "Smile" is an album all about getting through the hard times and trying to find the light at the end of the tunnel and putting in the strength and effort into trying to find happiness again.
The first track is titled "Never Really Over," but before I was even halfway through I was hoping for it to be over soon. It's nothing people haven't heard before – it immediately sounded like every other pop song. Perhaps that is the reason why Perry titled it "Never Really Over" – foreshadowing that the familiar, generic sound of the song would continue on throughout the album and never be over. Luckily, the song comes with a colorful music video that makes the song more manageable to listen to.
"Cry About It Later," the second track, is accompanied by a beautiful animated music video. While the first track was a letdown, this one instantly makes up for it as it is a vast improvement. It has a nice melody with a lively beat and tempo that makes you want to get up and have some fun just like the lyrics promise. Perry sings about letting go of your worries for at least one night to let loose and enjoy yourself, and the sound of this song fits that message well. Near the end, an amazing electric guitar solo is heard that ties up the song with a cherry on top.
The fourth track "Daisies" comes with a music video where Perry sings surrounded by the vibrant green of nature and blooming, yellow daisies around her. She later stands in a stream of water filled with rocks, where she proudly shows off her baby bump, giving the music video a maternity shoot type of feel. The video is gorgeous and makes the lyrics feel more hard-hitting. "But I'll never let 'em change me // 'Til they cover me with daisies." In these lyrics, the concept of death is being implied. She talks about how she'll continue to move on, carry strength, and try to achieve her dreams until the day she dies despite what others may tell her. Her vocals are also shown off wonderfully on this track. Given that she named her newborn daughter "Daisy," this track feels to be on a much more personal level than the rest.
"Resilient" is the fifth track on the album and her voice is especially strong and prominent in this song. The lyrics emphasize that difficult experiences usually bring something better afterward and that she was born to be able to handle and take on these challenges with the resilience that she has. Although her vocals showed off that strength, the sound and instrumentation were weak. They did not match the power of her voice and could have overall been better.
Despite the seventh track being named "Smile" after the album title, the corner of my lips did not budge in the slightest. The song is cheery, colorful, and bright in a cliche and superficial way. It's catchy and the music video is entertaining, but it almost feels like it's geared towards young children. The chorus sounds like it has the potential to quickly become tiresome after a few listens as well.
The tenth track, "Harleys In Hawaii," is a chill and groovy song about love with a summery vibe to it. Ironically, this track was released as a single on October 16, 2019, at a time and season where these summer vibes don't really fit into place. Besides that, the breezy song is laid back and inviting.
"What Makes A Woman" is the final track that has a different sound compared to the other songs. This short yet sweet song has a sound similar to country music. The lyrics can be considered controversial as it sets some stereotypes or traditional characteristics as to what "makes a woman." For example, Perry sings, "Is it the way we keep // The whole world turning // In a pair of heels? // Yeah, that's what makes a woman." 
All in all, this album was underwhelming and nothing new. None of the songs were outstanding or unique. It all sounded familiar, like something everyone has heard already. Some songs start sounding better after a few listens, but others only get more annoying. There were moments where Perry's vocals really shined through and where the visuals of the music videos kept things entertaining, but there's not much apart from that. There isn't any replay value or anything to keep a listener hooked for too long before the skip button starts to look like the better choice in the end.
—–
If there are issues with this article, report it here.