Review: Miley Cyrus' "Plastic Hearts"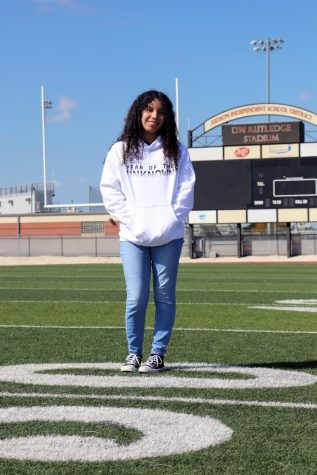 More stories from Jennifer Castillo
On November 27, singer Miley Cyrus released her seventh studio album "Plastic Hearts," a type of pop-rock record that contrasts her previous album "Younger Now" from three years ago. Including features from Dua Lipa, Billy Idol, Joan Jett, and Stevie Nicks, the album contains 15 tracks, two being singles and another two being covers.
The first track, "WTF Do I Know," is a strong opening and immediately lets listeners know what they are about to jump into. Cyrus seems to be singing about an ex-lover and letting them go and being officially over them. The lyrics are bold and aggressive but in a catchy way. The bassline is groovy and the added electric guitar and beats tie it all together to make it even better.
"Angels Like You," the third track, starts off with a sweet acoustic melody and an even sweeter verse. The song is gorgeous and the poetic lyrics are bittersweet as she once again sings about a lover, using pretty metaphors to describe a relationship that hides a deeper meaning. "Baby, angels like you can't fly down here with me." Her voice is beautiful, making the lyrics more hard-hitting than it already was. And when I thought the song couldn't get any better, the build-up before the last chorus proved me wrong and made it a perfect ending to an amazing song.
"Prisoner" featuring singer Dua Lipa is the fourth song on the album and a single, and it gives off more of a pop vibe compared to the other tracks. The vocals from them both are there, but in general, the song is underwhelming and the weakest of the album. Personally, the song needs a few more replays before it can begin to grow on me. It was steady all the way through, but boring. 
The sixth track "Night Crawling" featuring singer Billy Idol is an absolute banger and my favorite of the album. It's explosive, energetic, and lively – something that you can't help but want to jump and dance around to. Cyrus and Idol and their delivery of the lines are amazing, the song bringing back the sound and feel of music from the '80s. This song is one that deserves to be played live, having great potential to make a crowd go wild. This track is an instant classic that could be played over and over again without objection.
The seventh track of the album "Midnight Sky" is another single and, just like the track before it, another banger too. She sings about a past relationship and the way that she is free now that she is out of it. "Lotta years went by with my hands tied up in your ropes." The chorus is catchy and powerful, the verses just as well-written. The song comes along with a music video that captures her singing her heart out, serving vibrant colors and eccentric looks.
"High" is the eighth song and it is another favorite of mine because of the way it showcases her strong vocals. Her runs and belts are insane in the choruses. The song is extremely emotionally-driven, and Cyrus is able to show those intense feelings through her singing so beautifully in a way that not a lot of artists can do.
"Edge of Midnight (Midnight Sky Remix)" is the thirteenth track, and this remix features singer Stevie Nicks. The remix is just as good as the original, possibly even better especially with the mix of the two vocals. Cyrus' and Nicks' voices complement each other flawlessly. Their harmonies are beautiful, particularly at the bridge of the song. Out of all the features on this album, their two voices fit together the most.
Last but not least, we have the iconic "Heart of Glass" cover originally by Blondie, performed live from the iHeart Festival. Cyrus completely outdid herself with this cover. No other voice could fit this song more perfectly. Her style, her voice, the confidence and passion she put into this performance suits the song like a glove.
The album is incredible with only very few songs that don't totally meet up with the rest. Cyrus is an artist who so many people of all ages grew up watching and listening to, and she continues to prove her skill as time goes on. She's flexible in the way that she's able to experiment with a variety of genres like pop, country, soft-rock, etc., and still sound phenomenal; her unique voice never fails to impress. No matter how much or how often Cyrus evolves, her talent continues to shine through.
—-
If there are issues with this article, report it here.