Mrs. Kayone Carter leads initiative to gather books published by alumni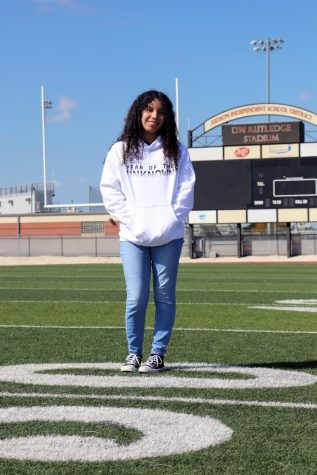 More stories from Jennifer Castillo
On Monday, November 2, the campus library unveiled its collection of books written by former Judson students on display for the campus to see and later be able to check out and read.
The idea to gather these books came from assistant principal Ms. Kayone Carter when it occurred to her one day that there are a lot more ways to showcase the talents of Judson graduates.
"A lot of people would think that we're always about athletics. But people are always like, 'What about academics?'. It came to me that we have some great writers at our school. I put it out on my Facebook page and a teacher that was one of my teachers back in the 90s asked if he could put it out on his page, and we just shared it out on Facebook. I got over 35 Judson offers so far," Carter said.
Carter then shared her idea with the campus librarian, Mrs. Mariya Ortiz, shooting her an unexpected message on a Saturday night, ready to take this plan into action with a bit of assistance.
"Mrs. Ortiz is a great librarian. She's been involved a lot, she loves what she does, and she loves sharing that," Carter said. "I was like, 'I have an idea that I need your help with so that we can have a special section in our library that highlights Judson authors.'"
Ortiz agreed and helped add the items to the collection. Meanwhile, Carter spearheaded the collection of materials, contacting people, reaching out to authors, etc.
"When she started talking about the idea, I thought it was such an awesome, amazing idea, especially for Judson because we are so legacy-oriented. And when you look at the dedication pages, almost every author in their book makes a reference to being a Judson Rocket. It's something special," Ortiz said.
They received a diverse selection of books of different genres from published authors of all ages. There are about eleven books that have been donated so far, but over 50 that they still have yet to acquire. They reached authors like Dr. Derwin L. Gray, pastor, motivational speaker, and former NFL player; Clint Rutledge, son of the former football coach D.W. Rutledge; and T.J. Rios, who was a young avid football fanatic of Judson football, and many more.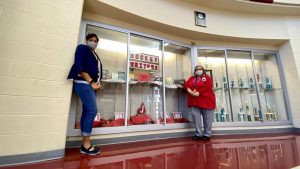 "We have a wide variety of different writers. This shows a different aspect of Judson because everyone always thinks that we're just athletics, but we've had some awesome writers that have come out and have done some great things. How often do we display books by Judson? I mean we display trophies, and that's not a bad thing – we display trophies from every other area, but this is a different type of trophy. It's in the form of a book," Carter said."
Ortiz created the foyer display in one of the trophy cases in the Diamond J area, the main hall as you walk into the school.
"We should be as proud of these accomplishments as we are of any of the trophies. These kinds of things tell us that our work doesn't end on the football field, that our work doesn't end on the basketball court, that our work doesn't even end in the band recital hall," Ortiz said. "[It tells us] that our Rockets have gone on to continue to be champions."
—-
If there are issues with this article, report it here.