Students return to campus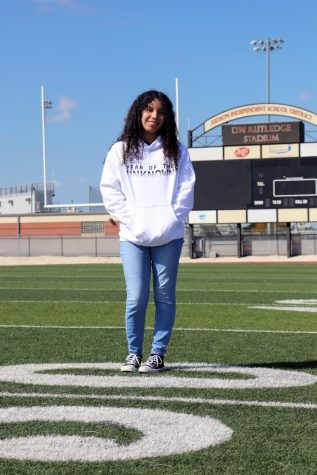 More stories from Jennifer Castillo
For the first time since March when schools completely shut down due to COVID-19, students in the district will now be allowed to return to face to face instruction starting today, September 28, with the option to stay in virtual remote instruction still being available. 
Both these options will be taking place simultaneously as the teacher teaches to the students in the classroom and to a laptop or computer since students on the other end of the Zoom session are also going to need real-time instruction.
"The students who choose to be at school will be allowed to go to class and be in class when the teachers provide their instruction. The students that are going to be remote, they'll still be able to do that because the teachers will be able to teach both sets of kids at the same time with our Zoom technology," Principal Jesus Hernandez said.
With the new way of life now, students will have to comply with new rules in order to stay as safe as possible.
"When students get [to the campus], they're going to have to follow the safety protocols, which is definitely wearing a mask before they get into the building, and they're going to have to pass a screener – like a survey – that they're going to do on their phones," Hernandez said.
Students can show up physically to the classes of their choosing and remain as long as they want to. However, once they leave, coming back to the campus will not be permitted.
"We decided to do that because we can ensure that they're going to be safe here and not interacting with anyone that might be contagious, but we can't guarantee that if they leave and come back," Hernandez said.
Social distancing will partake in the classrooms with teachers having spaced out desks appropriately to where they can fit as many as they can safely. On average, there might be about 15 to 18 kids per class depending on the classroom size.
"Other teachers can definitely fit more, other teachers can fit less depending on their environment," Hernandez said. "Having said that, the teachers will mitigate the number of students that come into the class that way."
In terms of the hallways, there will now be one-directional hallways where students have to follow the hallway patterns in a clockwise manner, and arrows telling students which way to go. Passing periods will be staggered wing-by-wing.
"For example, let's say at the end of first period we're going to release the P-wing first and give them a couple of minutes to move around the building, then release the G-wing, then the H-wing, then everybody else. That way not everybody is in the hallways at the same time, so you have fewer opportunities for exposure," Hernandez said.
As for lunch, it will be served in the hallways because lunch will be eaten in the classrooms. No longer will there be students allowed to eat together in the cafeteria.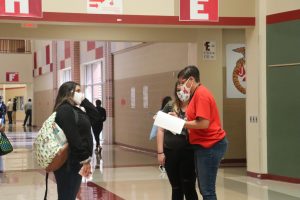 "We're going to have a team of adults go to each wing and the ladies of the cafeteria are going to provide the lunches there. Like in testing when we go class by class, that's how we're going to do it that way as well," Hernandez said.
Passes to leave the classroom will be different than before, where students will have to take a picture of the pass – that has the date and time – on their phones. Only two people will be allowed in the restroom at one time.
"We blocked certain stalls to where only two stalls are available and two sinks are available at any time because we want to limit the number of people that congregate inside the restrooms," Hernandez said.
Social distancing will not only be taking place on the campus but in bus transportation too.
"The buses will run extra routes because not everybody will be able to be on the bus. We don't want to overcrowd the buses and have that as an issue. And only two buses will be able to release students from a bus at a time," Hernandez said.
The worry that might linger on everyone's minds now are the chances of COVID-19 cases rising because of the reopening of the campuses. Nevertheless, the decision of schools shutting down again will depend on the say of local health authorities.
"Right now, the county has just released a new mandate allowing 75% capacity of buildings. That means that the number of COVID cases are dropping and the contact cases are at a place where we feel a little safer opening up," Hernandez said. "If that changes and the county or state decides to do differently, we're going to abide by what they're doing."
—–
If there are issues with this article, report it here.