Spirit groups limited on away games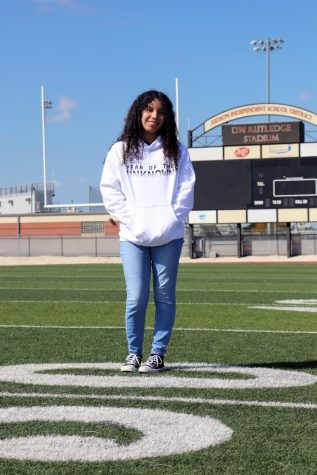 More stories from Jennifer Castillo
It's safe to say that almost every aspect of our lives have been affected by COVID-19 for the better or for the worse. Whether it's how you interact with people or how you do certain tasks, the list of things COVID-19 has changed is never-ending
Band performances at football away games being one of them.
Initially, it was set that band and dance were not allowed to attend any away games at all. However, this decision is dependent upon the community where the away game is played.
"For home games, the entire band and colorguard can go. For away games, we are limited to 100 spirit team members, so that includes dance and band. We have to limit the number of students that can go in each group and it's for social distancing purposes," band director Mrs. Laura Braun said.
Because there's a limit to who can go, the students are chosen by grade and ensemble before going down the line to juniors and sophomores.
"We try to do it by seniority and the ensemble, and the students who have earned their spot through an audition and through the top group. Then, we open it up to the second band juniors. And after we fulfill that, if we still have leftover spaces, then we would go to sophomores that are in the second band before we would get to the third band," Braun said.
Social distancing will also be incorporated into their performances.
"We have to stand a few six feet apart in our set up. All of our field performances that we're doing this year, all of the drill has been written to six feet or larger," Braun said.
Another unfortunate change for band has been losing students who have been able to participate due to their families' decision to keep them at home instead of being at school or doing after-school practice.
"That's their choice – they're allowed to have that choice. We don't discriminate against them for that choice and we don't take off from that either," Braun said.
This year, band has been having to learn to roll with the punches because of everything that has been changing so quickly and frequently. The seasons, competitions, drills, practices – there are many changes within these occurring all the time that they've had to adapt to.
"It's been a year of adjustments and going 'Okay, what's going to happen next and what are we going to do to alter and do whatever plan we need to do to make sure we keep our kids safe and do what we can to have some sort of season,'" Braun said. "I feel like our kids deserve having a season because they enjoy this part of the year. There are a lot of traditions that we want to hold on to and we don't want them to get lost just because of COVID."
Despite the challenges that might present themselves against them, they're glad to still be a part of the games.
"I feel like we're doing a really good job of adapting to the changes," Braun said. "The students are still having a good time, we're going to come out with a good product, we're looking forward to competing this year, and we're happy that we get to be a part of [the home games] or of an away game even if it's a small group."
We reached out to dance for comment but we did not receive a response.
—-
If there are issues with this article, report it here.