Flashback Friday: Michael Jackson's "Thriller"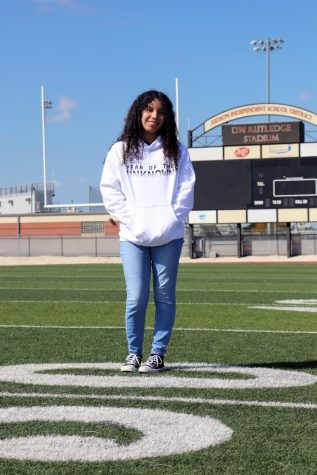 More stories from Jennifer Castillo
A man with a sequined, black jacket sparkles as a stage light shines against him. A white-gloved hand gripping a mic that he sings into, shoes gliding across the floor like a man on the moon. Kicking afoot and doing a spin, his body moves with the beat, facial expressions telling a story with lyrics that spill out powerfully. Instruments play under the cheers and claps of an enthusiastic audience.
It is like magic. It is, undeniably, the "King of Pop", American singer Michael Jackson.
Even twelve years after his death in 2009, Jackson's impact on the world with his music is still alive. More specifically, with his album released on November 30, 1982, "Thriller".
According to Guinness World Records, "Thriller" became the world's best-selling album of all time with over 66 million copies sold. It won Jackson a record-setting eight Grammy Awards in one night and was the first album to get the 30X Multi-Platinum RIAA Certification. The album comes with nine tracks, seven of them becoming Hot 100 top 10 hits and released as singles. The songs vary from a mixture of pop, post-disco, funk, and rock. 
However, some may still wonder why and how "Thriller" and its singles could have achieved all these awards and praise. What makes this album so legendary?
Many of the singles on this album did so much for the music industry and changed the game forever. We've got the song "Thriller" accompanied with a 13-minute long music video that set the stage for the cable channel MTV, revolutionizing it in terms of how music was to be promoted and marketed. The spooky music video and funky zombie dance is simply too iconic and unforgettable.
"Beat It", the fifth track of the album, is more on the rock genre than the rest. Musician Eddie Van Halen's electric guitar solo in this song stands out wonderfully and adds a lot to the song. However, while I do believe it is just as much as a classic, it probably is the weakest between "Thriller" and "Billie Jean".
The sixth track, "Billie Jean", was the song where Jackson first performed his signature moonwalk dance move live in 1983. This song could also be considered his signature song, the first song most people might hear when thinking about Jackson and his performances. "Billie Jean" is a personal favorite of mine – it has a strong backbeat and a groovy bassline that makes it impossible not to replay it over and over.
"Thriller" is still definitely worth listening to. I think that younger children nowadays, those who belong to Generation Alpha and were born after his death, should try to listen to Jackson's music if they have not, and this album is the best way to start.
Overall, this album lives up to its name like no other – it's exciting, electrifying, and exhilarating. It's got incredible vocals, melodies, and a great arrangement of instruments that still make it sound so new and unique to this day. "Thriller" pulls you in, if not by sound, then by Jackson's captivating performances. It is no wonder that this album was so groundbreaking and significant to pop culture.
—-
If there are issues with this article, report it here.