Beto O'Rourke visits UTSA
The Fuel was the only high school journalists invited to attend. We have reached out to Senator Ted Cruz and the Cruz campaign multiple times but have not received a reply.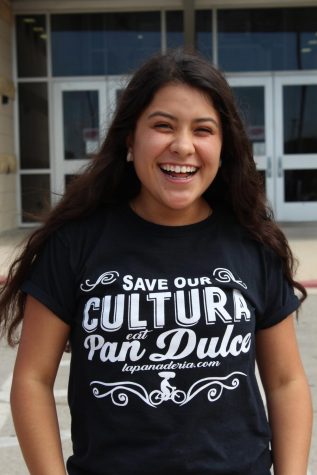 More stories from Izabella DeLaGarza
Senate candidate Beto O'Rourke is quickly approaching the end of his 2018 campaign. He has chosen to spend some of the remaining days touring college campuses. On October 4, 2018, he visited the University of Texas at San Antonio for one of his campaign rallies.
The Fuel was the only high school journalists invited to attend.

At the rally, he expressed his beliefs that students are leaders and told how he is trying to include them – and younger generations – in the political process more now than they have in the past.
"By showing up for everyone, including students and making sure that they are also part of this conversation, I think that gives those same students a reason to vote," O'Rourke said.
He is aware of the effects non-voters can have and is willing to disregard who the students vote for, as long as they come to the ballots.
"I don't care who you vote for, right? All I care is that you're represented. In our democracy, which means that the people are the government and the government is the people, it doesn't work if the people don't show up," O'Rourke said.
O'Rourke also showed his take on immigration policies, specifically for Dreamers, which is that they are just as American as everybody else and deserve United States citizenship.
"Dreamers, who in any way that matters, are every bit as American as anyone else here, as my three kids, or anyone across this country," O'Rourke said. "Dreamers, because of the decision of one man, live under the constant fear that they may be deported back to a country they may not know."
O'Rourke approached the current education standards and the circumstances students may face in the education system. He acknowledged the racism some face and the connection between school and prison that some have experienced. He also wants to allow children to go to pre-kindergarten and enter elementary school with the necessary prior knowledge they need to keep a good pace.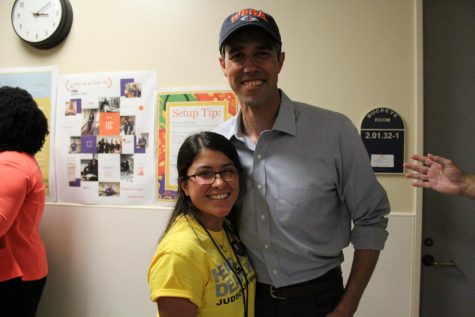 "What if we decided that equity and education doesn't just mean that every school district and every campus and every teacher has equal access to the resources that allow them to be successful (as important as that is), but that [we] universally remove the starting line back to four years old for every single child, so they have an equal shot at success in life," O'Rourke said. "And that their teachers, importantly, we give them the trainings so that they understand the students in front of them. Even better, we make a conscious effort to make sure that those teachers look like the students in front of them."
Contributing more to the conversation about the education system, he wants to give teachers a more stable and appropriate salary and retirement fund.
"George Washington, hundreds of years ago, said our ability to recruit the best and brightest –  that's all of you (students) – into positions of public service is predicated on how we treat those who preceded you in those same positions," O'Rourke said. "Pay teachers a living wage, allow them to teach to the child and not the test, and then take care of them once they retire."
O'Rourke also realizes the struggles of many present and former college students with student loans and debt and would like to try to ease the weight of it. He wants to make dual credit and early college programs more accessible for high school students to graduate with their associate's degree, as well as improve loan forgiveness programs and have better interest rates.  
"What if we decided – and this wouldn't be inexpensive –  we all have to pony up to make this possible, that we are going to invest in everyone's ability to better themselves, to get those skills or that certification or that training, or that higher education, that allows you to reach your purpose and your function in your lifetime," O'Rourke said. "And at a minimum, your first two years of college are taken care of. Now, that does not come free, right? We have to make the investment in those children, in those classrooms."
He took on the popular, yet divisive topic of health care and providing it to people, believing that everybody should have access to decent healthcare. He even quickly mentioned the concern of whether or not abortion should be legal.
"I've chosen to accept that the only way we're gonna work our way out of this problem is to guarantee high-quality healthcare universally to every child, to every woman, to every man," O'Rourke said. "To make sure that when we're talking about healthcare, yes, it means mental health care, yes, it means primary healthcare, and yes, 45 years after Roe vs. Wade was decided, it means every woman making her own decisions about her own body."
O'Rourke wants everybody to take actions so that future Americans will admire and be grateful for the people who caused the changes.
"The generations that succeed us, our kids and our grandkids, we want them to be proud of what we did at this defining moment for our country. We want them to know that we stopped a 2,000-mile wall, or the banning of people of one religion, or the description of the press as the enemy of the people, instead of the best defense against tyranny," O'Rourke said. "They wanna look back with pride on us."
He believes that even with everybody's conflicting opinions on certain subjects, people can still come together to make a better government.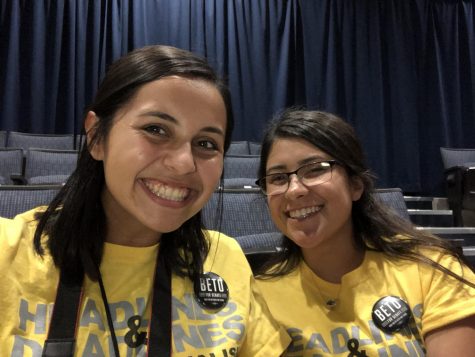 "None of this has to be controversial. All of it can be discussed, can be debated, can be resolved," O'Rourke said. "It will involve some compromise necessarily inherently to a successful democracy, given a little bit of listening to somebody else with a different point of view, a different means to get to the same goal, we can do that. We have a great track record as a country. Imperfect? Definitely. But one of the best things going on the planet, if not the best, in my opinion."
O'Rourke wants everybody to understand that no matter what our political differences are, we are all still humans.
"Recognizing that at this moment, a truth for our country, we are all in the same boat and if we refuse to look at one another as Republicans and Democrats, and instead see each other as Texans, as Americans, as human beings, there is no stopping us," O'Rourke said.
Even with how much time O'Rourke has spent and how much the campaign has done, he is still not satisfied with everything.
"I won't feel that I've done enough until we win until I've been able to talk to and listen to everyone in this state, so there's not a part of this campaign with which I'm satisfied, to be honest with you," O'Rourke said. "This is an extraordinary effort that all of these people all over the state are amounting, and until everyone has been reached out to until everyone has been heard until everyone is reflected in this campaign, then we have not done our job."
The Fuel has reached out to Senator Ted Cruz and the Cruz campaign multiple times but have not received a reply.